I have talked about this milestones over and over again, and even though I knew the day was going to come (sooner or later), I was still thinking it was going to be a bit more...
Can you tell what is this???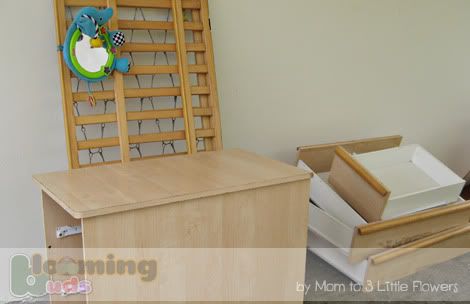 This is Mimi's crib, in pieces already, waiting for my little brother to pick it up for his son. This crib has been part of my life since before Gaby was born, and have been "there" through all my three girls... Words cant express how much I LOVED that crib.. It has 3 side drawers and 2 big bottom drawers, and it was just perfect for us... That crib was even shipped to us when we moved to this country (yes, that is how much I loved it)....
Of all my three daughters Mimi has been the one that spent the most time sleeping on the crib... Gaby was about of the crib by 20 months or so (and it wasnt before Mia was born, because Mia was born several months after that... Then, Mia was out of her crib before she turned 18 months old just because she refused to get in the crib anymore... Mimi was already born, but she was happily sleeping in a craddle that my aunt let us borrow.
Mimi was "happily" sleeping in her crib... I mean, she was spending the whole night there, however, she would complain about her sisters sleeping in their beds (actually one bed, because they like to sleep together in the same twin bed and leave the other one empty), which is why I offered the crib to my brother.
The only thing babyish that we still use are diapers, and I confess I havent put any effort into it, even though she has been showing signs since forever... As I use cloth diapers, Im not really desperate to stop saving money, which is what forces some people to potty train their child too fast... I may wait for her to tell me that she doesnt want any more diapers, (that is what Gaby did at 2 and half years old)... Maybe if by the time she is 2 and half and she havent potty train herself, I will just start working that out (but as you guys know, nothing can be predicted with kids, so it will happen, when it has to happen... No rush on my part)....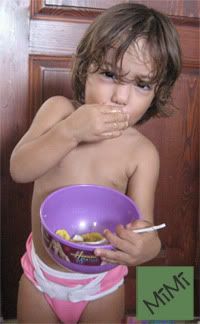 There are a few other babyish stuff, that even though we dont use them, they are still here (and driving me crazy)... Hubby already started putting aside the toys that are for babies so we can give most of them to my nephew, but I plan to join him during the week, so we can finish it by next weekend.
They went to bed at their bedtime, and after 5 minutes of low voice talking, they felt asleep. It was so funny when I was explaining to Mimi that she was not going to sleep in her crib anymore. She said: "Yes, because daddy broke it". Hubby also told her to hug it and say good bye.
In the photo, Mimi is having a very messy lunch (which is not normal in her, but I was letting her to have fun with her lunch (yes, I confess, Im sick and I dont want to deal with it.. LOL).