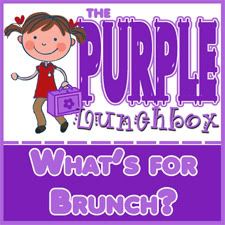 A week ago I was chatting with my friend
Erica
about some cool ideas to pack for lunch for school. What to pack for school has always been a challenge for me and Im always trying to come up with ideas for this.
Gaby will be going to first grade starting on next Tuesday, so it's time to think about packing her lunchbox again. Let's face it: Gaby doesnt eat breakfast... She will drink a glass of strawberry or chocolate milk, but it is not easy to get her to actually eat something. I despite morning fights and stress, so I try to play along for a hasslefree time while getting her ready for school.
The idea is that Gaby gets her glass of milk at 7:00am in the morning, then has snack time in school at midmorning, and then she comes home for a heavy lunch at 2:30pm. This means that what I need to pack for school is going to be BRUNCH (late breakfast)... I want to keep it as fun as possible so she could actually EAT it everyday!
The Purple Lunchbox
was born with the idea of keep me motivated to keep up with the FUN idea of her brunch. Little details to make it more fun and appealing for her.
Why
PURPLE
? Because purple is her FAVORITE color, and even though I havent got her lunchbox yet (shame on me, I know), Im sure it will be purple (or have purple somewhere)....
Stay tuned for "
The Purple Lunchbox
" posts every Friday! I will try to take a photo of her lunch everyday to post them of Fridays with a short description of each lunch. I will have a Mr. Linky up so you can post your link if you decide to join the fun and post your lunch ideas in your blog too...