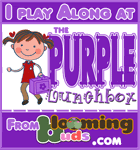 Here it is our second Purple Lunchbox. This week had her ups and downs, but I just need to work out more creative ideas cause so far I havent been "decorating" it as I would like... Im sure that is a down point in Gaby's case. Im planning to buy sprinkles for decoration and maybe cholocate chips to make eyes and mouth, but havent been able to find them...
Anway, here it is what she got this week: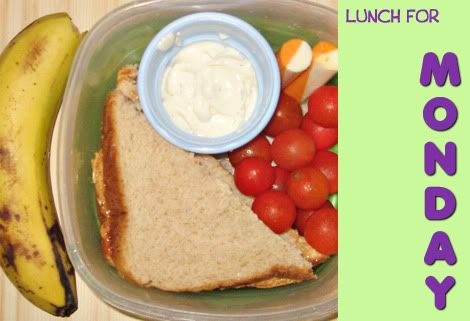 - Peanut Butter and Jelly Sandwich in whole wheat bread
- 10 Cherrie Tomatos
- 1 morazella cheese stick (cut in 2)
- Dip with light mayo (made with oregano, light pepper, and a pinch of garlic..)... Gaby's favorite
- 1 Banana
Results:
The cherrie tomatoes came home intact... I find out later on that a kid was making comments about Gaby eating tomatoes.. Who knows is that has some inflence on her.
Comments:
Took me around 10 minutes to get it ready. The dip is one of Gaby's favorite which is why I send it with the cherrie tomatoes as she had never had cherrie tomatoes before.. It didnt work. I need to find another way to get her to eat them...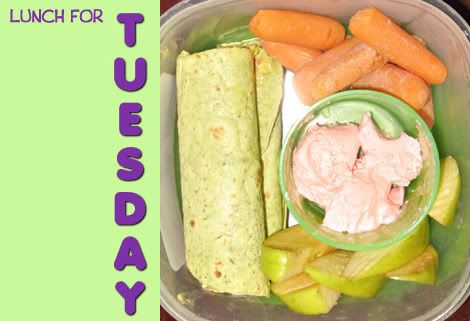 - 2 spinach wraps with ham and cheese
- Apple wedges (half of an apple in total)
- 8 baby carrots
- Strawberry with skim cheese dipping
Results:
She ate all the carrots except for 2.
Comments: Took me around 15 minutes to prepare.. I always boil the carrots at least 5 minutes.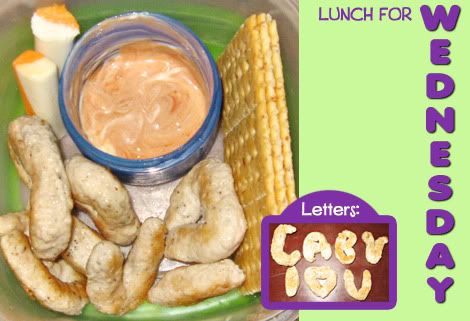 - 7 pieces of grilled chicken nuggets.. Each piece spelling: Gaby I(love)U - The "love" was a heart
- A pack of wholemeal crackers
- 1 morazella cheese stick (cut in 2)
- Pink dip (catchup and light mayo)
Results:
She ate everything.
Comments:
I put the nuggets together the night before, and grilled them in the morning. Too me around 15-20 mins the night before plus another 15-20 to get it ready in the morning. Hubby helped with the grill, however the poor letter G became a C... Oh well.
- 2 cheese quesadillas
- 8 baby carrots
- Pineapple rings
- Cheese dipping
Time to prepare:
Results:
She ate everything except for the carrots.. The pineapple juice got the carrots get and she said she didnt like it like that..
Comments:
Those pineapple ring was from a can. I normally dont buy fruit in cans, however my mother in law gave us around 5 cans and we havent use them. So, I decided to give them a try with Gaby.. She loved them! Took me around 15 minutes to get the lunchbox together.
- Peanut Butter and Jelly Sandwich in white bread
- 2 Ham and cheese roll ups
- Around 8 strawberries (cant remember how many) with a bit of vanilla frosting
Results:
Will edit when she gets back from school.
Comments:
I actually put this together the night before and put everything inside the lunchbox (including the juice) inside the fridge.. This is way she is free of veggies... She has her first quiz today, and I wanted to focus on that in the morning, and not on the lunch.
BONUS:
Since the other day I was planning to start doing a
Tin Meal
... Im not sure if I will participate in that meme, however I wanted to post it as I know some people has comment about how to do it if the kids are home.
This is what I did for Mia and Mimi. I used a 12 cupcake pan, and each one got 6 different things... I wish I had two cupcake pans, but I dont (gotta go out and get some different options).. Anyway, this can be done in this cupcake pan, or in anything else that comes to your mind.. It can even be packed just like I would pack it to send it to school... Your call.
As the idea of the lunch is that is has to be fun, I decided to play a little game with them to get them to motivate them to eat everything. I got some Little People toys and each one was going to get to put the Little People inside each empty hole as they were emptying them... I was sooo fun. The bonus was a Little People horse (instead of a person) for whoever would eat the carrots.. It was motivating at first, but they really just used the carrots to eat the dipping by itself...
Here is how it looked when I put it together!! It is soo colorful.. They were thrilled!!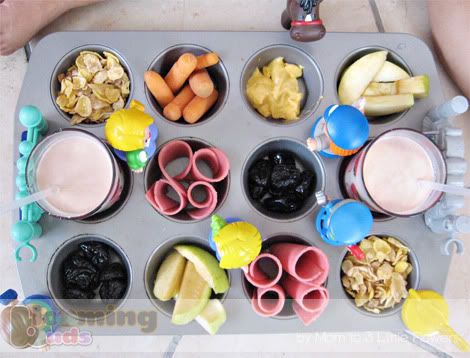 And here is AFTER they finished eating: (By the way, the chubby blond people that is where the dipping was, it is one of my OWN Little People when I was their age).
This is what you see:

- Honey Bunches of Oats cereal (one for each)
- Apple wegdes (for each)
- 4 little ham rolls (for each)
- Prunes (for each)
- Chocolate milk (for each)
- Baby carrots and cheese dipping (same for both)
They ate everything very equally, however, Mimi ate more ham than Mia; and Mia ate more Honey Bunches of Oats than Mimi. Also, the only one that took bites of the carrots was Mia.. Mimi used the same carrot over and over again to eat cheese dipping (Mia was doing it too)...
So, were you able to take photos during the week?? Do you mind sharing them with us?? Just make a post about it today (dont forget to add our buttom with your post)... And of course, if you forgot to take photos, a description of what you sent is welcome to! Dont forget that you can participate even if your kids are home and dont go to school. Looking forward to read your comments (cause you were not thinking about posting the link and not posting a comment, right? wink wink)
Post your links here: