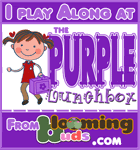 I wasnt planning on posting againg about the
Purple Lunchbox
until next Friday, however two people emailed me asking me more about it to be able to actually participate this first Friday, so I decided to write a little bit more about it...
What is the Purple Lunchbox?
It was born with the idea of keep me motivated to keep up with the HEALTHY and FUN idea of her brunch. Little details to make it more fun and appealing for my daughter Gaby. Each Friday, I will post pictures from what I sent to school for her to eat, and a brief description of what it is. In my case, it will be Brunch, but in your case can be breakfast, snack or lunch (whatever is that you send your child in his/her lunchbox to school.
Why is called the Purple Lunchbox?
Simply because my daughter's favorite color is purple. Her lunchbox is purple, with pink and lilac dots everywhere.
How can I participate?
If you want to play along, you will have to take pictures of your child's snack/brunch/lunch as many days as you can, and post it in your blog with the logo on the Purple Lunchbox (I will add the code at the end of this post)... Then, you will come back to my blog and post the link to your blog (I will have a Mr. Linky to make it easier) so I can go and check it out (along with all the others that participate if they want to)...
Any suggestions for what to pack?
I will be also learning as we go, but the idea is to send a balance of carbs, protein, fruits and veggies... Something like this: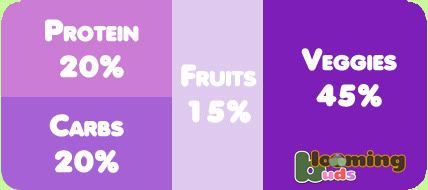 In my case, I may send more fruit and less veggies, but I will try to send more veggies and less fruits as the time goes...
Any "green" ideas to complement the idea?
Yes, as Im living greener everyday, I will pack a cloth napkin, and the water or juice that I send will be in a reusable bottle. Also, I will try to send mostly homemade foods...
Why am I doing this?
Because I think this is a great way to motivate us, as mothers (and dads), to send healthier food to preschool/school, and also to add a little bit of FUN to it.
Do I need to have a blog to participate?
Certainly not. However, you will need to upload your photos "somewhere" so we can see them... I highly recommend using
Flickr
for that.
What if my child still doesnt go to preschool or if the preschool provides lunch, but I still want to participate?
You can still participate... If your child is home with you, you can do this idea for the snak/brunch that you will make for him/her. You can even buy a lunchbox to make it more fun. Im sure that your chilld will LOVE that (especially if you actually homeschool). If in your case, the preschool provides the food, you can do this for the afternoon snack, or in the weekends.
So, if you want to participate this week, start taking photos so you can post them all on Friday. Gaby starts First Grade tomorrow and I cant wait to start!
To grab the blinkie just paste this code into your post and/or the sidebar of your blog.