Im suppose to be a WAHM (Work at home mom), but there are days, like today, when I cant work and those are the days that I become a SAHM (Stay at home mom)...
A lot of people wonder how is it that I can work at home, take care of the girls (which also means spend time with them, play with them, read to them, etc), do my part of the chores, cook, help Gaby with her homework, and still have time to spend with hubby everyday...
Well, my secret is LACK OF ELECTRICITY! Yes, that is... If there is a reader from this country, they know what Im talking about... For those of you living outside of the "jungle" and have no idea what Im talking about here is what happens: There is a deficiency in the electric area, and mostly everyday I spend at least 10 minutes without electricity.. That is on the good days of course... There are days like today, when they decided to make a maintenance on the electric lines, that we spent 8 hours WITHOUT electricity!! Yes, that is right, EIGHT!!
Everyday, I know the electricity will go out at some point and I try to work while there is electricity.. As I never know how long it would be, I cant even take a nap, because what about if I nap while there is electricity, and just at the second I decide to start working, the electricity goes off for several hours??
So, that is my secret... At the second the electricity goes off, I run to do the chores.. I do this, here and there... Im grateful that I dont live in a hot house... The windows are open, and the girls can play without complaining for the lack of the fan. I do hate to cook without electricity, but I open the kitchen door and windows, and it is totally Ok... There are days where Im blessed with electricity the whole day, and I get to make my chores with electricity, but normally those days I try to work more on my business and less in the house...
I also try to do stuff with the girls everyday, even though I confess I hardly take them to the backyard... But, in days like today I spend MORE time with them than usual.. Of course, we LOVE it. Today I even did something for them that I have been wanting to do since the other day:
A tin meal
(I will talk more about it on Friday.. On the next Purple Lunchbox).
We got to play more than usual and we talk a lot.. Today I realized how much urge of learning how to read Camila has... Probably she is going to be like me.. I adores books since I was a little girl... Since I learned how to read and until I was around 12 or so, I used to hide a little lamp inside of my bedroom.. My mom will send me to bed and minutes later, I used to turn on the lamp under my sheets and READ and READ and READ for hours and hours... Needles to say, 3 or so years after I started doing that, I was precribed with GLASSES... It was because of the poor lighting. As an adult, my mom confessed that she knew about it, but how do you tell a child not to love reading!!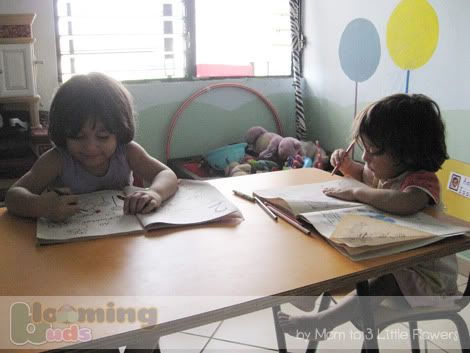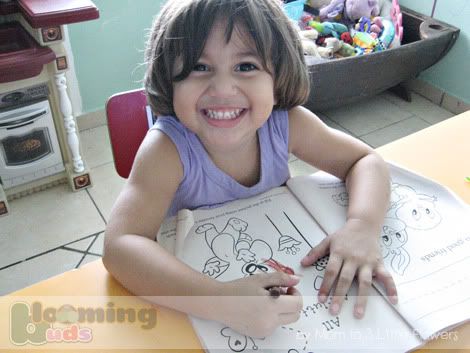 At one point I was trying to get a cute photo of Mimi with her cloth diapers but she couldnt stay still in the position that I wanted her to be...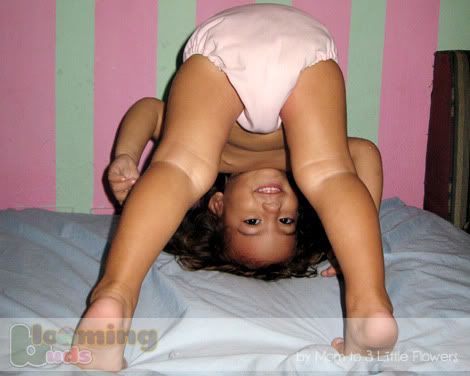 Another thing that I did was more chores than what I get to do in a regular day, so GO ME! :) It was a fun way to show that you dont need electricity to have fun, which is why I wanted to post about this: To remember it!!!