Im still in disbelief that Gaby will be a first grader in less than 2 weeks... School starts on August 18th and it gets so weird to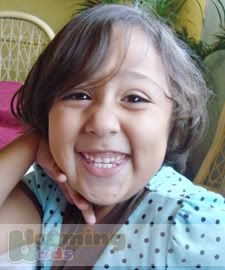 think about Gaby getting "grades" and maybe even "Notice of concern" or "detention".... She will also get several homeworks each day, instead of one homework 2 times a week when she was in K.
She is going to be in the building where the big kids are, and she is going to be the youngest of the WHOLE school... Last year she was the youngest of her classmates, but there were a bunch of kids from grades Nursery, Toddler and Pre-K that were younger than her... This year she is going to be the youngest of over 300 kids!! (In case you are wondering why she is the youngest, it is because all her classmates are already 6 or turning 6 this month or in September... She turns 6 on October 5th, which makes her the youngest).
Im very happy with her new teacher. Her new teacher is somebody Gaby loves and that loves Gaby, and also the teacher's aide. Im sure that will make the adaptation process just easier, because she still wonders why her teacher from last year wont be her teacher anymore... Her new teacher is the one that we went with to
our first family vacation back in April
.