For the past 5 months or so Mia have been doing an strike about the crib.... She can be dead asleep and as soon as she feels like you are going to put her on the crib she cries bloody murder!! I mean, she wont cry, she would SCREAM!!! As we were at my mom's house, I was sleeping in a room with Mimi, and hubby was sleeping in another room with Gaby and Mia. So, to make things easier he started putting her on the bed, and that way she would sleep the whole night.

On Tuesday, when we were buying the nanny's bed, we decided to go ahead and buy Mia a twin bed. We just had room to take the nanny's bed, so they were going to deliver Mia's bed. Well, we got it yesterday, and when I set up the room with both twin beds and the crib, Gaby and Mia were really excited! I still need to buy both bedrails (I had to give away Gaby's double bedrail to a friend who had her 6 year old sleeping on the top of a bunk bed and her hubby said it was useless to buy them!!... I just couldnt help it!).... In the mean time, Im putting comforter and pillows on the floor. I also took the base away while we buy the bedrails....

Here are the girls sleeping in their room TOGETHER!!!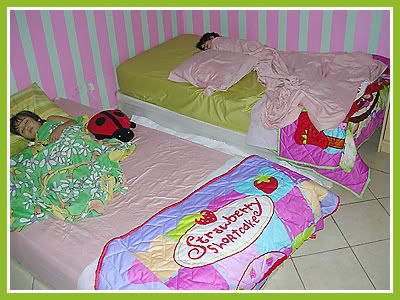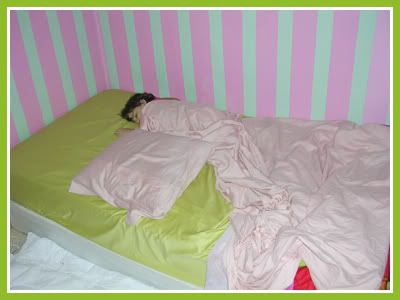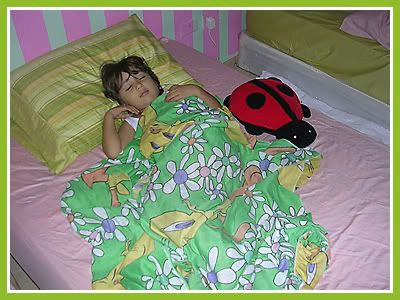 Mimi is in the other side of the room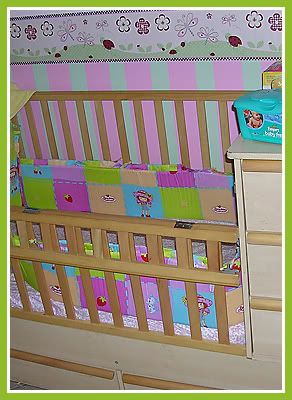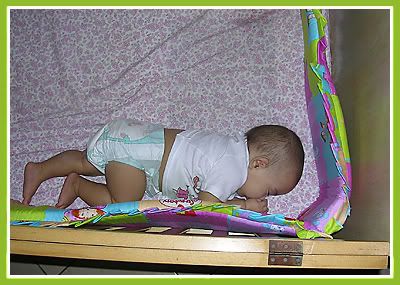 Until later!