Bedtime is the longest time of the day in this house.... After we take two hours bathing the girls, coming their hair, choosing a pj that actually fit the especific kid, etc etc etc, we take forever making the milks!! In this country, we use powder milk because of the weather. I mean, we have ready mades milks, but for people with kids, it is better to use powder and more practical.
But, how longs it takes to make the milks for my girls when ALL three of them use different milks and different preferences??? Well.... this is how my kitchen looks when it's time to make milk: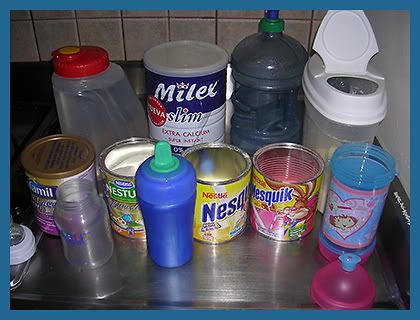 First is Gaby's milk... She uses Nido Kinder -a whole milk with vitamins for kids- (that's the one in the plastic container.... Plus Strawberry Nesquik (she wont drink it without it).... Then it's Mia's milk.... She use Skim Milk because whole milk upsets her stomach. She hates the taste so we put her Vanilla Nesquik (cant use Strawberry because she's allergic to it). We also have to put a spoon of a special cereal that help kids to sleep recommended by her pediatrician. Then is Mimi's milk... She's still on formula and she is using Enfamil Gentlease. We algo put her a Spaniard tea that pediatricians recommend for gas and sleep. Plus we use boiled bottled water for Mimi, and bottled water without boil for Mia and Gaby. On top of that, I normally have to take water or juice to my hubby who is normally with the three on them while I make the milk....
How many times do I put Vanilla instead of Strawberry to Gaby's milk?? How many times do I put whole milk instead of skim milk to Mia's sippy cup? How many times do I put regular water to Mimi instead of boiled water?? How many times do I have to throw the milk away and wash the bottle or sippy cup again??? COUNTLESS TIMES!!