After looking for 2 weeks for a new nana (that's how we call nannies), we already found one yesterday. It feels weird to having somebody else leaving with you but she has her own room and bathroom outside the kitchen.

It's impossible to work with the girls and keep on with the house, so we had no choice. I would love to bring my mom's maid instead because she alraedy knows the girls, and knows what I like, but let's see if this one does a good job. So far, she has been really good, but let's see how things go.

I have tons of work to do. Last night I finished a Dora birthday invitation for a soon-to-be one. Here is how is looks so far. Still needs to be approved by my costumer but this is what I got so far. She loves purple and is not a big fan of pink, and she wanted one of the 12 pictures designs..... (BTW, it has fake details)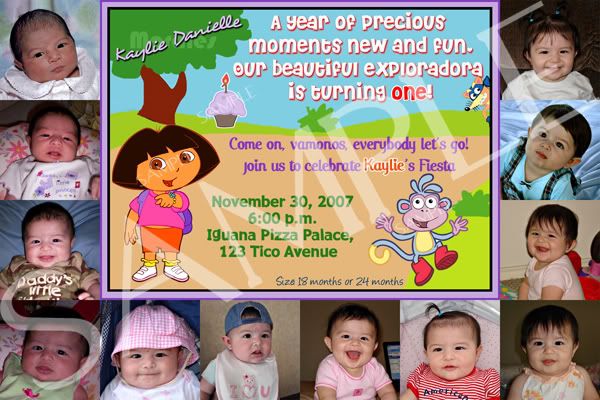 She's really beautiful and she looks latina, but I think her dad is the one that is latino. She reminds me to Jackie Velasquez on the picture where she is wearing red on the bottom right.
Thank God Mimi woke up really happy today. She looks like she grow a little bit. She has diarrea since a Saturday, and a horrible rash, but she looks really better today. I put her on a t-shirt that my dearest friend Heather send her. (Heather: If you are reading: Thanks!)... She cant look any cuter.... Here she is:
Now I have to keep working...
Until later....