I really cant understand why people thinks that Mimi is going to be 6 months old in 4 days... I mean, what do they know?? Im her mom and Im the one who knows.... I dont care what her birth certificate says, or what the pediatrician says....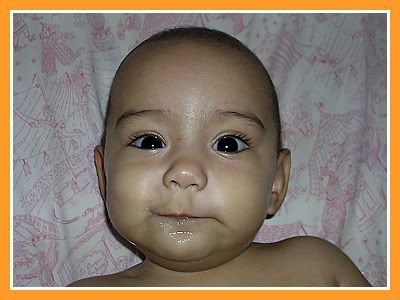 Now, I want to know why a 2 months old is already rolling over, or holding her head up, or sitting down with support, or reaching her toys and battling them, or worm crawling, or trying to stand up! Maybe she is just advance for her age, isnt she??
The other day I left her on my bed, because a 2 months old wont fell down, but she almost did!! How did that happend?? A 2 months old cant do that!!
Hubby was bathing her yesterday, and for some reason I cant understand he used the bathing chair for babies 5 months old and up... Is he crazy?? She cant use that just yet!!

Yesterday, the pediatrician's secretary called me to tell me that next Thursday is her 6 months old checkup and her third round of shots, and I guess she confused her with another Amelia Isabele.

I know she has been 2 months old since July, but every kid grows at their own peace, right? She has her own calendar, and she wont be 2 months old forever but for a few more months....