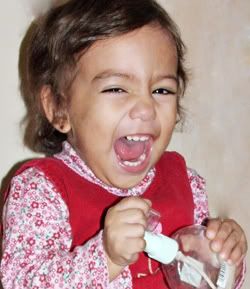 In just 4 months my youngest and last daughter will be TWO... It sounds like such a big number for her... She is sooo petite, even though she talks like a 2 year old... Just today the lady from the Early Stimulation program told me how amazed she is with how much she talks. She has a funny personality cause she talks and talks and talks but only with the people that she feels comfortable with. Mostly the people that she sees everyday. But then, with everybody else she is sooo quiet. I used to be like that, though. Still are sometimes.
We found a plush
Tasha
, and she is in love with her. Im so set with their birthday party to be
Backyardigans
because Mia and Mimi are just in love with them... I was thinking that Mimi was going to be
Uniqua
, and Mia was going to be
Tasha
, but I will switch the roles... I wanted it to be like that cause Mimi's color is pink, and Mia's color is red. But as I see how much Mimi loves
Tasha
, it came to my mind that she is kinda like her. I was reading in Wikipedia the description of both characters, and came to the conclusion that Mimi will be
Tasha
, and Mia will be
Uniqua
.
Tasha aKa Mimi:
A little girl yellow hippopotamus, in red shoes and a flowered dress. Of the five characters, she is the only one who wears shoes at all times. She looks like a sweet little girl, but underneath she's rational, skeptical, and highly motivated to get her own way. Of the five, she tends to be the most serious, though Tasha can also be giggly, silly and full of fun. Tasha and Uniqua are best friends.
Uniqua aKa Mia:
A curious, self-confident and high-spirited pink creature with polka dots and overalls, she is almost always sweet and friendly, though her strong opinions and occasional stubbornness get in the way of her relationships. She is more tomboyish than Tasha, often imagines herself in roles requiring brains and fortitude (scientist, pirate captain, etc), and loves books.