This year the
Three Wise Kings
was celebrated on the 5th instead of the 6th. I really didnt planned anything special and the only thing that was meant to be bought was Gaby's new doll. As Im feeling awful from a very bad cold, I didnt even wrapped the presents. That was fine by me, as the presents were a bunch of stuff that we gathered and was actually for all of them.
Anyway, as we were going to go out with my dad in the morning, I decided to lock the playroom the night before and pray that Gaby or Mia didnt remember the kings... Yesterday the girls woke up and I started talking about
Happy Land
right away, so they actually forgot about the Kings and presents....
During our ride to meet my dad, I asked them if they remember to check for if the Wise Kings put any presents for them, and Gaby was amazed that she forgot... She said that she was going to check when they get back to the house. When we got to the house, they (mostly Gaby) started looking to see if they stopped by... They were excited when they enter the playroom!!!!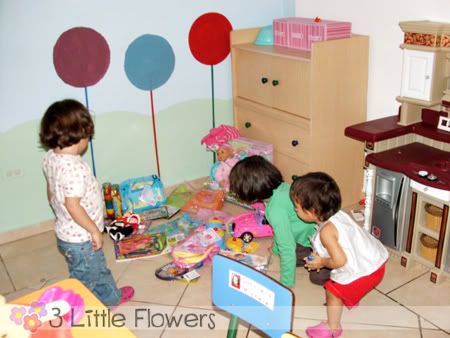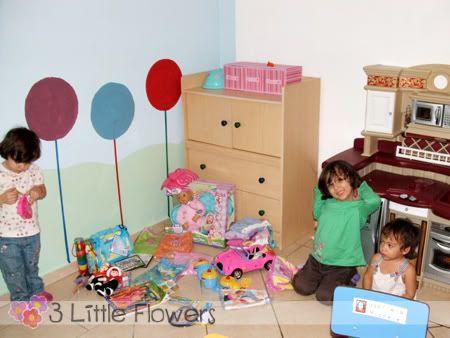 They got their aprons and chef hats from
Sew Posh Boutique
(one of my customers), which were suppose to be for Santa, but that didnt make it on time... I will try to get a better picture later on, but they look sooo cute!!!

Gaby's new doll was a hit and the three of them love her very much!!! I swear that for next year, I will get the same thing for each one of them. This baby is bald, 17 inches and really cute... I didnt get a picture of Gaby with it, and she actually went to sleep with her, but here is the stock picture....... Cant she be any cuter????
Preschool starts tomorrow again, and it feels so stressful to start getting ready for it after being in vacations for so long... I know 3 little girls that wont want to get up from bed tomorrow.... Gaby's eyeglasses are not ready (If you didnt read about it, Mimi send them to the "eyeglasses hospital"), but hopefully they will be ready tomorrow.... The lady is also offering a new type of eyeglasses holder, and I hope they fit her better... We'll see...