..... but happy, though.
We found out that the Backyardigans were going to be at the parking lot of a cable company... People needed to have that cable to get in, so I spent the whole morning finding out all the people who had that cable and getting account numbers!!! I was planning on taking only Mia and Mimi as Gaby was going to see them on Saturday, and I only got 4 tickets, but at the last minute, we got one more ticket for Gaby.
Next time I will think about this TWO times when I plan to take the girls to this type of thing by ourselves. Next time I will try to get a friend or somebody else to go with us, because when we got there we realized they are a one meter tall stage, and the people was going to see the "mini show" standing up.
Standing up means that ALL the kids were on their parents shoulders. So, how do you fit 3 girls in 2 sets of shoulders??? At first, hubby got Mia and Mimi, and I got Gaby... But, Mimi was not able to see being sitting down on his shoulders... So then Hubby got Mia and Gaby one on each shoulder sitting down, and I got Mimi STANDING up on top of me.
Imagine what is to have three dancing and clapping ladies on top of us... And the funny thing was that I couldnt see them AT ALL... The people in front of me were taller and with kids on the shoulders, and here is a picture that I took putting my hands up (without looking at the lenses).... I actually took several pictures to see if I got one centered, and this one was the best one... It was when the said Good-bye, hence why you cant see kids on the people's shoulders.... People was beat up and at the second they say there were going to leave, everybody put their kids on the floor (not us, as they wanted to see them until the very last second)....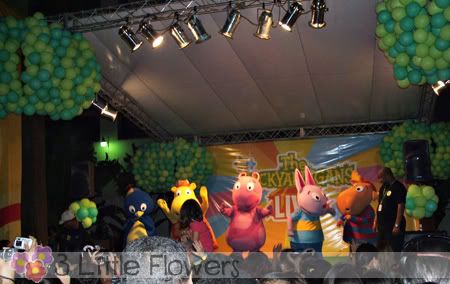 Mia was very sad to see them leave, and they all wanted to see more... As you can imagine we set up Mimi on her stroller right away, and the other two on the floor... I know I will be sore for days to come!!!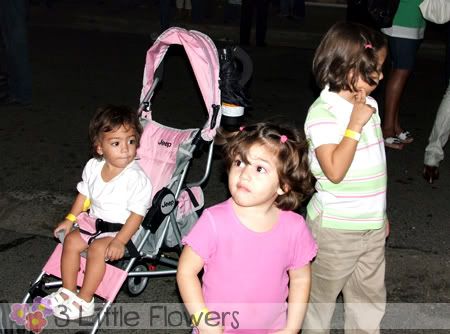 I was also VERY happy to find out that they had their faces covered, not as the picture that I posted on
Tuesday
with their faces out.