I just couldnt keep myself from sharing this with you guys.... You first have to see the image and then read....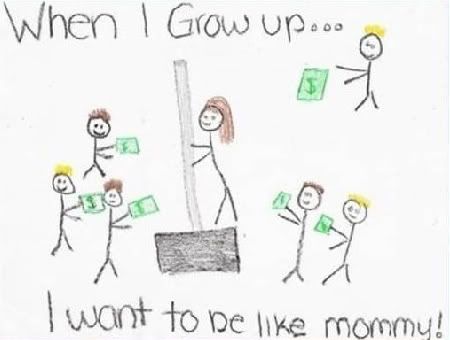 Here's the reply the teacher received the following dayDear Mrs. Jones,
I wish to clarify that I am not now, nor have I ever been, an exotic dancer.
I work at Home Depot and I told my daughter how hectic it was last week before the blizzard hit. I told her we sold out every single shovel we had, and then I found one more in the back room, and that several people were fighting over who would get it. Her picture doesn't show me dancing around a pole. It's supposed to depict me selling the last snow shovel we had at Home Depot.
From now on I will remember to check her homework more thoroughly before she turns it in.
Sincerely,
Mrs. Smith
---
Edited to add:
Just as I posted this, Gaby saw the picture an told me that the picture showed somebody's mommy that is brooming... She was so short that she had to get on top of the broom. Then, when Gaby noticed the people she said that those people are giving her money, and I asked her why... She said that she probably needs the money to buy something.