This was truly a very busy weekend. After the beach, we went to my mom's house to spend some time with my oldest brother, wife and nephew. I also needed to stop by Luz house as she was having her flight in the middle of the night. I will post about it tomorrow with photos.
The main event from today was that we went to the Carnival Parade. Honestly the last time I went I was a little kid, and if I would have known how it was, I wouldn't have taken Mimi. She was amazed by the colors and music, but it was very crowded and it is not easy to be outnumbered by the kids.
Temperature was 92 F (33-34 C), and we were covering ourselves with umbrellas. Honestly, Im not a big fan of the carnival, because some people do the most horrible acts simulating blood and hitting each other, and that is not my thing. However, the girls had fun, and that is what it matters. I do think some of the performances were too graphic for them, but it was fine.
Here is Mimi at the parade sitting on her stroller.. The three of them were wearing the typical flag outfit: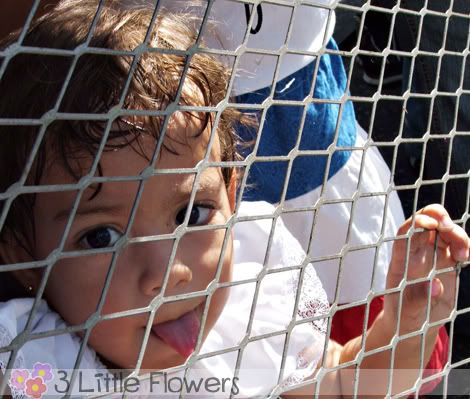 One of the typical "Diablo Cojuelos"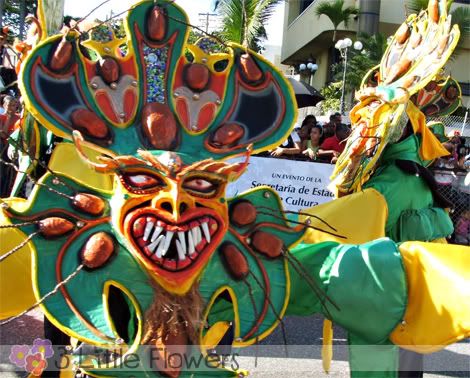 Here is hubby with a "Diablo Cojuelo":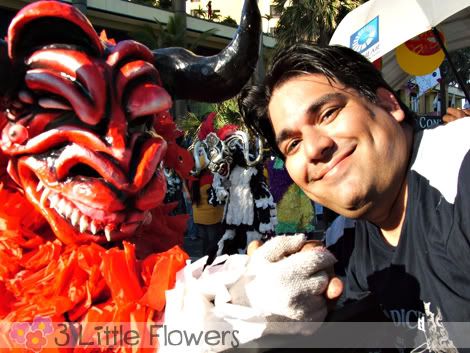 We took almost 300 photos and the memory got full. Sadly we couldnt get photos of the best parts of the performances, but this is the first time that we actually get it full. We will be on the market for a spare memory after this incident. I made a selection and put them very small, so the blog doesnt loud so slow as both previous posts has too many photos: