..... At the Cloth Diaper Whisperer's blog:
A house full of girls, a house full of dolls
.
---
UPDATED:
I decided to add here the post and the comments from the posts: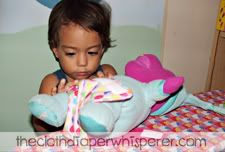 I have three daughters, and it is not a secret how much they love dolls. I seriously lost count of how many we have in this house. Playing "mommy" is something that they all have been doing way before they could talk, and my middle girl was burping and feeding her dolls even before she could walk.
Teaching my daughters about things that I strongly believe is very important to me. I want them to grow and be able to make their own decisions, but I want them to BELIEVE in those decisions, and do not make those decisions just to go with the flow, or because they look "normal" for the majority.
Im not a big cooker. I just don't feel a big 'passion' for cooking. However, no Baby Food company can expect to survive at my expense. My girls ate homemade baby food since they started having solid foods. It is important to me that my girls learn how I feel about homemade baby food VS commercial baby food. We got them a kitchen for Christmas, and they "cook" to their babies, and we try to teach them how important it is to know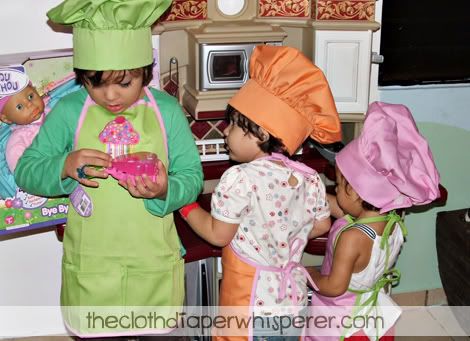 where the food you are feeding your baby is coming from. I know they hardly understand this YET, but I strongly feel that never is too early to start teaching your kids those things that matter that much to you.
When my girls first got babies that wet, I was desperate to find cloth diapers for the dolls. I wasn't even a cloth diapering mom by then, but I knew that the disposable doll diapers were not going to be part of my waste. I look back and I wonder why I never find out about cloth diapers before, and how late I find out about them. I honestly had never seen a baby in cloth diapers EVER. To this day, the only cloth diapered babies that I have ever seen in person are my daughters. My mom told me that I was cloth diapered sometimes during the day, but –of course- I wont remember that. I was so disconnected from cloth diapers that I didn't even know about dunking, or plastic covers, or anything. I just knew there were people (who I didn't know) that used a piece of fabric as a diaper, and I always wondered how that fabric held the pee…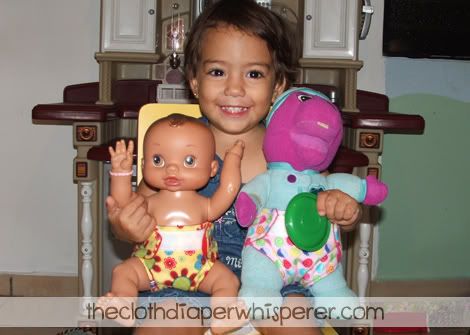 Now, I feel VERY strong about cloth diapers, and I wish all my friends were cloth diapering. I LOVE to proudly show everyone the diapers, and I LOVE how my daughters can tell about cloth and disposables, and how they clearly prefer cloth. Just yesterday I received my very first order of cloth menstrual pads, and the reactions of my girls were hilarious (I promise details in a future post all about it). I love the fact that my girls are not growing up thinking that cloth diapers is the only way to go, they are growing knowing that there are options, but that they still think that cloth diapers is the best way to go.
My girls are all about breastfeeding, homemade baby food, cloth diapering and wearing their babies. I stopped breastfeeding my youngest several months ago, and my oldest still sees breastfeeding as the 'normal' way to feed a baby. I really hope they grow up and stand up for what they believe, and I hope they feel with their kids how they feel with their dollies.
-Whispered By: Anelys *Mom to Gabriela (5), Camila (2.75) and Amelia (1.75)*
---
Here are the comments from the post:
Kira said... Your daughters are beautiful! Good for you for instilling such wonderful values! And please do let us know about the mama pads! I tried to sell the idea to my hubby and he was completely bewildered by my interest in doing such a thing. Of course, in the end, he's not the one who'll have to wear them! kira_williams2003atyahoodotcom March 11, 2009 at 2:30 AM
---
Upstatemomof3 said... That is a terrific post. MY son knows about options too. Although he cannot figure out why anyone would not use cloth. I am definitely going to be getting myself some cloth menstural pads when my cycle returns (nursing my six month old currently). March 11, 2009 at 4:04 AM
---
one day in the life of me said... I have been considering the cloth pads for myself. I guess I'll just have to order some. It's amazing how much our little one's understand . And they just know that cloth is better, my girls definitly prefer cloth over disposbale. March 11, 2009 at 8:53 AM
---
Maggie said... Such cute girls! Do let us know more about the cloth menstrual pads. I'm planning on trying them when it's time. I'm 8.5 months pregnant now. March 11, 2009 at 9:27 AM
---
Kelly Wels said... Anelys, I absolutely adore the post your wrote. Your values are so admirable. You have inspired me to make baby food for Riley. (Currently we feed him organic baby food.) My 11 year old daughter occasionally asks me "Mommy, I just don't understand why everyone doesn't use cloth diapers." BTW- the outfits are the girls (and dolls) are absolutely wonderful. Did you get the "chef" outfits on etsy? March 11, 2009 at 9:36 AM
---
TheOGMamaBear said... I amazed at how lovely your little girls are. I love seeing pictures of them! March 11, 2009 at 10:35 AM
---
Amanda said... First of all, that has got to be the coolest play kitchen I have ever seen...so grown-up looking. And as always, your girls are adorable. I have always made homemade baby food for Mikaela. I love knowing exactly what is going into my daughters tiny little body. Amanda G. March 11, 2009 at 10:38 AM
---
Serena said... LOVE LOVE LOVE the pictures! Your little ones are adorable and those gorgeous colored chef hats and aprons are to-die-for!!! We have the same play kitchen too (slightly different color scheme though)!!! You know - I haven't even bothered buying baby food after Aaliyah... my second DD began eating what we ate every day (except it was mashed really well). In most countries and cultures around the world, babies don't eat separate/special foods... so I thought, why should we do any different? Great post Anelys! You do such a great job with the blog and with being a wonderful mamacita! *LOL* March 11, 2009 at 11:22 AM
---
kidfoodie said... Have you heard about the Diva Cup? It is a cup for catching menstrual blood - very eco-groovy. I like making my own baby food too - I make adult food and just feed some to baby - saves me time and money. Lisa http://www.babyfood101.com March 11, 2009 at 12:19 PM
---
Kristen said... What cute girls you have! Love the chefs hats and especially love the pic of barney in the diaper! Love that you make your own baby food too! What a great example you are! March 11, 2009 at 1:42 PM
---
Erika said... Terrific post. Good for you for sticking to and passing on your values. March 11, 2009 at 2:08 PM
---
EdenSky said... I love the chef hats! March 11, 2009 at 2:27 PM
---
Sara in Seattle said... Your kids are adorable! I hope that I can raise my daughter with the same sort of values. March 11, 2009 at 2:40 PM
---
Kelly Wels said... Hi kidfoodie, We are actually going to add the Diva Cup to our line. Waiting list is here: http://www.kellyscloset.com/Diva-Cup_p_3582.html We are also looking into other cloth for mama and alternatives for catchin' the flow! March 11, 2009 at 3:02 PM
---
Momto3LittleFlowers said... Thank you all for your wonderful comments!! Barney and Baby Alive are sporting two Sew in Love diapers that I got a couple of weeks ago when we decided to make Sew In Love as the Product Focus.. I had another brand, but I gotta say these ones are just GORGEOUS.. Honestly. To all the ones that asked about the menstrual pads, we promise a full week dedicated to it... Stay tuned! About the Chef Hats, I got it with one of my lovely customers and friends... www.sewposhboutique.com ... The owner is awesome, and the quality too... I even got hats and aprons as Christmas presents for other little girls... Kelly Wels: I got an Ultimate Chopper when my oldest was 6 months old http://www.ultimatechopper.com/ and I gotta say that I LOVE THAT THING!!!!! It mashes and chops everything sooo nice... I think that is what made it so easy... My mom has a Magic Bullet and even though it is nice, I dont love it as much as my Ultimate Chopper. Serena: You will be surprised how many people are giving life to baby food companies in this country... Gerber even makes baby food of rice, meat, and all kind of stuff that you wont even dream seeing in the states... We also have a Spaniard brand (very expensive by the way) that makes ALL kind of baby food too... Most people use them.. Same thing with disposable diapers... I seriouly havent seen ANY clot diapered baby... AT ALL. kidfoodie: I have heard of Diva Cup but havent try it. March 11, 2009 at 3:08 PM
---
Kelly said... A great post! Sharing how we feel about things is great but even better when we can explain that it is a choice that we make and that everyone has choices that they can make. Same or different from us. Its the education about our choices that is so valuable to our children. March 11, 2009 at 4:03 PM
---
WiseChixMama said... Your girls are beautiful!! It is wonderful that you are showing them the options available to them, & they prefer the natural ones ;0). We try to do the same w/our girls. I hope your mama pads go well & yes, do keep us posted!! I am SOOO glad I found your site... you do such a great job w/your blog!! Thanks for presenting the "other" ways to life... the natural ones that many people turn their noses up to!! March 11, 2009 at 4:14 PM
---
Katrina said... Being the mom of two boys, I can't begin to imagine what life must be like in your house with three little girls! I use mamma cloth too - when my son sees it in with the diaper laundry he calls them mommys diapers... March 11, 2009 at 4:25 PM
---
Angela said... That is so cute and I love love love the little chef outfits. March 11, 2009 at 4:39 PM
---
Jess said... haha I hope when my boys grow up & get married their girls are up to BFing, CDing, & making their own food cause im raising them to be as passionate as me about it ;) & I am the only one I know irl that uses cloth too! mamapads cloth diapers for mom ;) oh the joy My boys call my Great post and your girls are so dang cute! March 11, 2009 at 6:51 PM
---
Melissa said... It's awesome how much you are already teaching your daughters. mjones_82@ yahoo.com March 11, 2009 at 10:28 PM
---
Liz said... You are such an inspiration! I can't wait to make baby food for DD#3! Like some PP mentioned, DD#2 ate whatever food we were eating, just really mashed up (partly because she was so stubborn!) Also, I am interested in the mamacloth/divacup. A week focused on this topic would be great! Although I think my husband will think I have gone of the deep end :) BTW your daughters are just too cute! March 11, 2009 at 10:54 PM
---
Melissa said... I love the picture of your girls all with thier baking hats on. So cute. March 12, 2009 at 8:08 AM
---
amanda said... lovely. i totally agree. please tell us more about those cloth menses pads. i've been looking at those as well. March 12, 2009 at 12:57 PM
---
Suzy said... I am not big on cooking either, but still make my babies food too. I love the examples you are showing your daughters and I hope I can do the same. March 12, 2009 at 2:38 PM