It happened!!! After 6 years Hubby and I went out!! It was at one of our friends house, and we took Gaby with us, but it was still a "night" get together, and it is the FIRST time that we do this since Gaby was born.
Gaby was there, but she did slept most of the time were there... So, it was like she wasnt there.... Mia stayed at my mom's house, and Mimi stayed at my dad's house. It is sooo nice that my dad now lives in town and now he and his wife can spent more time with the girls... It also gives us more oportunity to actually go out.
I dont drink alcohol, so I was drinking coke, which I havent been drinking at home at all... Hubby is not drinker, but he was having a few drinks and having so much fun... It was really a good time!!!
Nobody was in the mood for pictures, so I was the only one that actually took out the camera... I didnt took a lot of photos, and Im not even in any of them, but here are a few photos... This is hubby: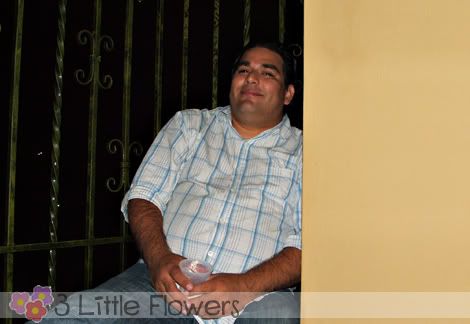 Here are two good friends of us... Briza and Massiel: