Today the girls and me (and I, however is supposed to be said) spent a few hours with my mom. We did something VERY fun for the girls, especially Gaby. Sadly we have no photos as the camera had no batteries. We went to the vet to take Lupita (my mom's dog) and spent over an hour there.
It is one of the most famous veterinaries in town, mostly because the location. We never go there, as it is out of budget for us, so we have a more affordable one. My mom goes there as she used to go to this vet when it was not famous and we had other dogs, and she simply didnt want to change even though he got TOO expensive (crazy to my taste, though).
So, what was FUN about it?? It was amazing the amount of dogs being dropped off and picked up, or simply going in for an appointment.... Im talking that we saw at least 25 dogs in the time we were there, and the girls LOVED seeing dogs in all sizes and all tempers!!! There was this friendly HUGE
Golden Retriever
that actually was taller than Gaby than Gaby got to pet and was fascinated with him... I told her that Sassy was going to be that size, and she couldnt believe her eyes!!! From all the dogs we saw there, there was only one, a
Pekingese
, that wasnt friendly, but the girls got to touch all the others, and it was truly fun... Now that I remember there was also a huge
German Shepherd
that they didnt got to touch, because the owner was really fast (she came to pick him up), and we didnt had a chance to ask if he was friendly or not.
Some of the breeds we saw while being there were:
Pug
,
Chihuahua
,
Fox Terrier
,
Poodle
,
Yorkie
,
Lhasa Apso
, and a few others that I couldnt tell the breed. My mom and I got very emotional with the
Lhasa Apso
because we used to have two: Toffie and Blackie. After my mom sold her house in 2004 and decided to move to an apartment, she had to give them up, and it was VERY sad for us. I got teary eyed just thinking about it, cause I had them since they were born, and we loved them so much. Here is a photo that I found of them when I was around 15.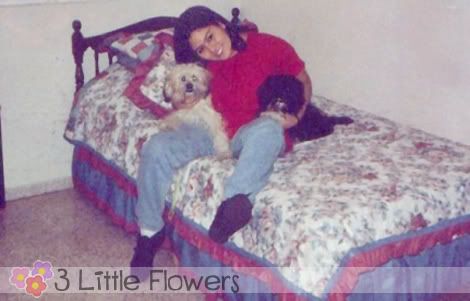 Then, we stopped by kids hair salon. Every outing with my mom has to end up with the girls getting a haircut. It makes her happy because she insists that will make their hairs grow stronger and that I have to think of the future and not in the present and yada yada yada. So, I told her that as long as she pays for it, I will let her take them to get haircuts every couple of months. Anyway, I cut Mia's bangs the night before and she was in a serious need of somebody to fix what I did (ooops!).
Here is Gaby just as they were going to start to cut her hair.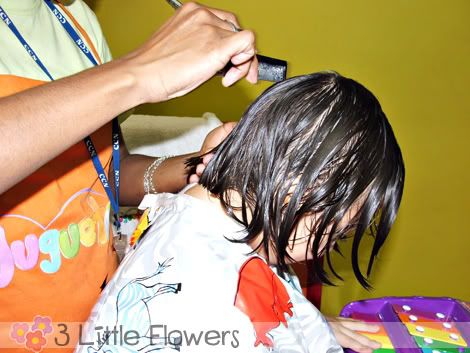 My mom, Lupita, Mimi and Mia while waiting for Gaby to finish: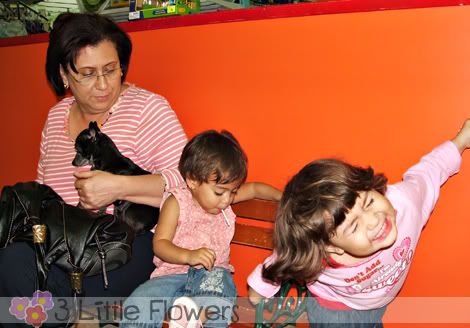 Mimi and Mia (please notice the
horrible
very cute bangs I did to her)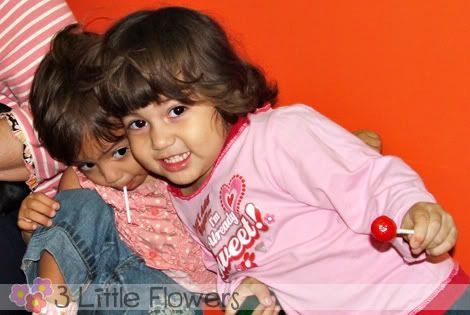 Here is Gaby after she was done:
Lupita at her first trip to a store (The kids hair salon is in a local toy store)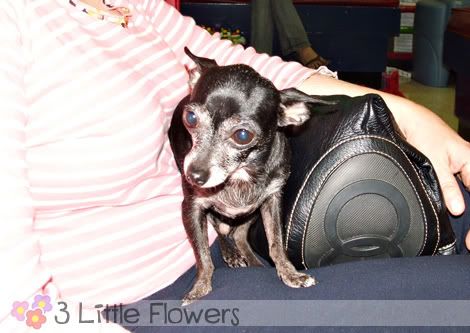 You wont see photos of Mia before or even after the haircut, cause for some reason she was not into it, and I had help in order for the lady to cut her hair... She always cooperates, but this time, she was not in the mood, I guess.
It was very nice to spend time with my mom. Since she is taking care of my grandpa, we can hardly go out. We had a great time. Then, Gaby left with my mom to spend the rest of the day with her and sleep over there... It was one of her rewards because she behaved EVERY SINGLE DAY of the week in the school.