.... actually at my mom's house!
My mom had the ilusion of singing happy birthday to ALL of them... She didnt buy a cake for Mimi or Mia on their birthdays, so I decorated 4 cupcakes for them... They were all super excited and it was like a mini-party for them... Notice the stand is a dinnerware stand and I use it as a cupcake stand... I may do that for Gaby's mini birthday party on Friday... With cute plates, though. Or maybe small trays....
Each one had to wait for their turn (yes, we had to put them a little bit far because Ariel and Mimi couldnt wait.. LOL):
The first one was Mia, as her birthday was back in April:
Then, it was Mimi, who's birthday was back in May: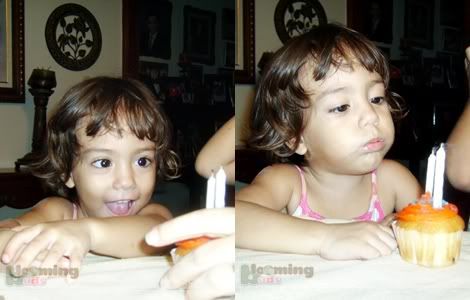 Then, Ariel, who's birthday was a couple of weeks ago on Sept. 21st.
And then, Gaby, who's birthday is tomorrow:
After that, they were honestly beat up!