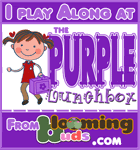 This week was the first week doing 3 lunchboxes and I have to confess that it could get very expensive... Still it was very fun, and the girls loved their lunches everyday...
I started a competition between them, and everyday they are all excited to show me how much they ate to see who won... So far, Mimi has been winning EVERYDAY!!!

I took photos everyday, however a friend of mine download them for me in her laptop and hubby has forgotten everyday to ask her for them.. Anyway, I have a photo from the very first day, so here is how Monday looked:


- 3 mini croissants with melted cheese
- Grapes
- Baby carrots with melted cheese and some froot loops

Tuesday:


- Chicken sausages
- Apple wedges
- Cheese rolls
- Crackers with light mayo

Wednesday:


- They asked for Chicken sausages again
- Baby corn
- Pieces of Mozarella
- Spinach wrap with Ham and cheese
- Carrot juice (I got new juice containers, so Im showing them off in the photo.. I LOVE them!)

Friday:


- Grapes
- Vanilla cupcake
- Pieces of Ham and cheese
- Salty crackers
- Sandwich with carrot dressing
(This was the menu on Gaby's party, however, her sisters got the exact same thing on their lunches... Gaby also got Jello)

If played along this week, share your link here:


Dont forget to leave your comment, even if you didnt participate!! You guys know how much I love comments!!!!