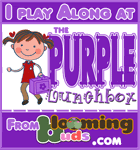 I couldnt take photos this week, and I have to confess that it gets kinda dissapointing... I kept Gaby's lunches looking almost the same as the ones from the previous week...


One of the readers, once asked me for the recipes that I used for the carrot cake that I made, so I decided to post that instead of the non-photo lunches.... Happily next week, there will be TONS of photos, not only because I got a borrowed camera, but also because my youngest two are starting school too, so I will get to photograph THREE LUNCHES per day!


The recipe I used I got it from Joy of Baking by Stephanie Jaworski, and it worked beautifully. I removed the ingredients I didnt used, because I wanted to show how I did it because that was the way I can comment on. The recipe was also made for 20 cupcakes, so I divided everything by half as only made 10. Another thing is that the original recipe comes with instructions for frosting, which I didnt do.


CARROT CUPCAKE - Ingredients
- 1 cup (130 grams) all-purpose flour
- 3/4 teaspoons baking soda
- 1/4 teaspoon salt
- 1 teaspoon ground cinnamon
- 2 large eggs
- 1/2 cup (100 grams) granulated white sugar
- 1/2 cup (120 ml) safflower or canola oil
- 1 cup (105 grams) finely grated raw carrots
- 1/2 cup grated apple (approximately 1 large)
- I added coloful sprinkles instead of the nuts and raisins.

Preheat oven to 350 degrees F (180 degrees C) and place rack in center of oven. Place paper liners in 10 muffin cups.

In a separate bowl whisk together the flour, baking soda, salt, and ground cinnamon.

In another large bowl whisk the eggs, sugar, and oil until slightly thickened. Fold in the flour mixture until incorporated. With a large rubber spatula fold in the grated carrots, grated apple, chopped nuts, and raisins (I added the colorful sprinkles here, instead of the nuts and raisins). Evenly divide the batter between the 10 muffin cups and bake about 20 minutes or until a toothpick inserted in the center of a cupcake comes out clean (mine cooked after around 15 mins).

Remove from the oven and let cool completely on a wire rack. With a knife or small metal spatula spread cream cheese frosting on top of each cupcake. Cover and refrigerate the cupcakes until serving time.

I will continue to work with "MAGIC GREEN" for next week... I will try a variety of green veggies... We'll see how that goes... If you guys want to play along, Im open to any ideas or suggestions...

If played along this week, share your link here:


Dont forget to leave your comment, even if you didnt participate!! You guys know how much I love comments!!!!