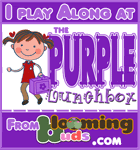 I didnt got to make lunches AT ALL this week... Mia and Mimi were home all week, and even though Gaby went to school 3 days of this week, I was feeling too sick myself and asked hubby to get her something himself from the cafeteria... A few days of non-so-healthy lunch wont be so bad for her...
Anyway, I was thinking about this the other day, and I will be posting it today as I dont have lunchboxes to post... I was thinking what were my daughters favorite items in their lunchboxes. I will post their favorite food out of each category: Proteins, Carbs, Fruits and Veggies.

Mimi has always been a great eater... She is not the best weight gainer, and she hardly grows, but I know it has nothing to do with how she eats, because out of the 3 girls she is the one that eats the most. This is what she loves the most from each category:
- Protein: Ham rolls
- Carbs: Peanut Butter and Jelly Sandwich
- Fruits: Banana
- Veggie: Tomato
Camila was an awesome eater as a baby, however, she started eating less when she turned 2. Now, she is a very good eater and she loves to try new stuff if I tell her she will like them... Here is what she loves the most from each category:
- Protein: Yogurt
- Carb: Cracker sandwiches with mayo dressing
- Fruit: Apple
- Veggie: Baby Corn
Gaby was the biggest picky eater as baby and toddler... Then, at some point and after a lot of persistence on our part, she started eating better and better, and now she is a very good eater... She is still picky, but she eats, which at the end is the most important thing:
- Protein: Chicken sausages
- Carb: Spinach Wrap with ham and cheese
- Fruit: Pinneaple
- Veggie: Carrots
I feel blessed with my daughters appetite, and I LOVE to hear people saying and praising how good they eat... Especially if there is rice and beans!! THEY LOVE IT!!!
I would love to know everybody's children favorites... Care to share?
If played along this week, share your link here:
Dont forget to leave your comment, even if you didnt participate!! You guys know how much I love comments!!!!