Im not sure if I already mentioned that I was having Gaby's birthday party at school... I need to remember next year that it gets too stressful because you actually have a deadline to get out of the house... I prefer just to be home and that the guests find me undressed and still cooking..
Despite the last minute stress, everything came out very cute and Gaby was thrilled. Most of the photos are on my friend's laptop, and I will be posting them as soon as I get them... Anyway, here is a peek from the ones of the second memory card... Here is Gaby with one of her best friends: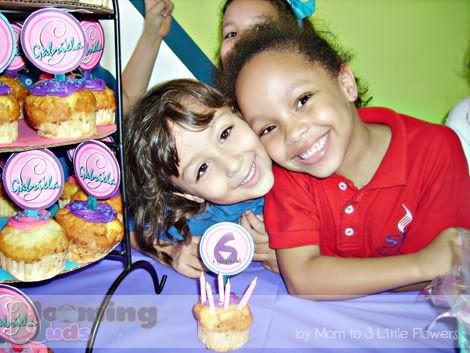 We are also very happy as Gaby had two quizzes yesterday (just before the party) and she got excellent grades in both! Of course, she got bunch of privileges over the weekend, one of those was to go to the park alone with me, while hubby was in the car taking care of Mia and Mimi who were sound asleep!
In another topic, today hubby and I had a night out... It was at all as we plan it, but we still had fun! We planned to go to the movies, however our car had other plans and it broke down on our way there... Three hours later there was no movie to watch (of course), so we went to grab something to eat and we talked and laugh and had a very good time... The girls stayed at my mom's house sleeping, and when we got to my mom's house, we just watched a few programs on TV. We will try to go out every second Saturday of the month (hopefully more)... My mom has no problem staying with the girls if we leave them sleeping.