Gaby's birthday is tomorrow, and my mom wanted to do something special for her and for my nephew Ariel (he turned 3 a couple of weeks ago)... The zoo got new animals, and we havent been there in several months, so we decided that the zoo was a great option for today... They even have a new playground area in the petting zoo and that was a big hit with the kids.
Here is the real Mimi... I hardly get her to be like she really is in front of the camera, but this photo shows a bit of her real personality and mischievous self.
This bird looks like a
Rainbow Lorikeet
from Australia, but it is new and it doesnt have a sign with the name... Anyway, hubby had tons of fun with him... and then, he pooped so far that it ended up in Mia's feet... She cried for at least 10 minutes, but then she was laughing as we were all doing.. It was truly funny!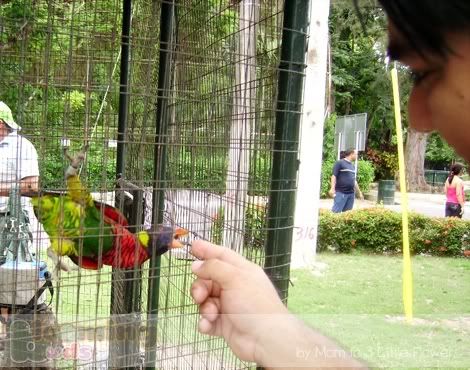 Here she is happy after we cleaned her crocs and feet:
DR people DO recycle! (For my non-Spanish readers, this is a place to separate the garbage... On the left is for plastics, on the midde for organics and on the right for metals(.
My bro had class for the master he is doing, and then he meet us there... We were waiting for his train to get to where we were, and check out what I spotted... Cant get any cuter:
The whole group minus my bro (was still on the train) and me (behind the camera)... Gotta laugh at hubby's face:
The girls... I LOVE LOVE how Mia looks on this pic! Mimi wouldnt let go the zoo's brochure!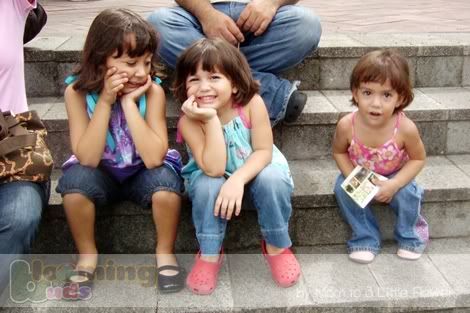 All the kids got on ponies (I should say *Pony* because they all got in the same one as the other two were having a vet's check up... A great lesson to wait for their turn...)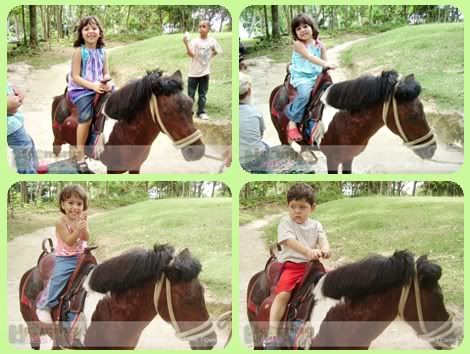 Here is hubby petting a cow:
Just having fun:
Mimi and Ariel

They were going up and down NON-STOP.. It was soo fun for them.