I knew this was going to be the second task that I was going to complete... After all, it was the easiest.. I just needed a little reminder!
I honestly cant believe that the photos on our about us page and top banner where A YEAR OLD!!!
Anyway, I did it, as you can see on the right side of my top banner, and you can check out the updated
About us page here
. I didnt change much, and mostly what I did was to update all FIVE ages... Also, added the middle names, and changed that Mia was an Elmo freak to being a Dora and Diego freak.
Just for reference, here is how the top banner looked and then how it looks now... Amazing how much ALL of three of them have changed:
Old: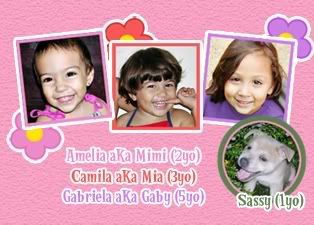 New:

For a complete
list of all tasks, go here
.