Hubby and I dont exchange gifts on V-Day because we think it's a day that "goes around" the girls, not us. We think our day is our Anniversary, and that is certainly not today!
So, I went to sleep at 3:30am last night (or should I say this morning?), getting ready Gaby's goody bags to school. We were not suppose to do this, but we were going to give the card plus some heart shapped candies, and a little bags, and they were so empty... So, we decided to put a bit more of candies, and we also added some heart shapped bubbles that we quicly bought yesterday.
Hubby and Gaby were mighty late, I couldnt take good pictures, but here are the goodie bags, and then one of Gaby proudly showing them to the camera!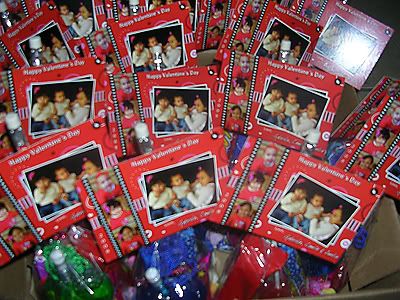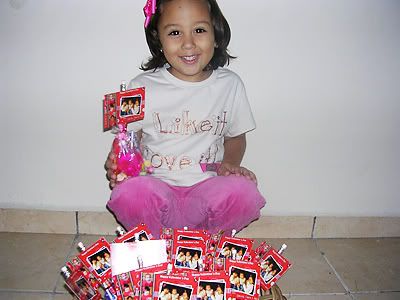 In this country, the main food is lunch, and normally people just eat something light for dinner. But, today I wanted to cook something special. I went to the kitchen and there were not much to do, so when hubby got home he offered to go food shopping while I was making the rice, and getting everything to make a "Sweet Plantain Cake" (Pastelón de Platanos Maduros) [If anyone is interested in the recipe, just let me know].
Anyway, he left with the THREE GIRLS cause they all started crying when he was leaving, and he just took them. After one hour and a half, he came home, tired, and angry because Gaby misbehaved just to find me sitting down in the computer saying: Hun, we run out of GAS!!
He made some "Tuna Sandwiches", and even though it may not sounds as an especial San Valentine's Dinner, we ate it TOGETHER, wacthing a movie TOGETHER, and it was mad yummyy!!! That's all that matters to us!!!!