Fifi is a beautiful little girl that I have been working with since she was born. She is almost 5 months old and it's a total cutie. I just did a Valentine's Card for her and I cant believe how much she has grown. I mean, it looks like it was yesterday that I did her birth announcement.
I wanted to share the cards that I have made for her so you guys can see how much she has grown (and of course, for you guys to see what I have been designing).
Here is her birth announcement:
Her Christmas Cards:
And now, her Valentine's cards: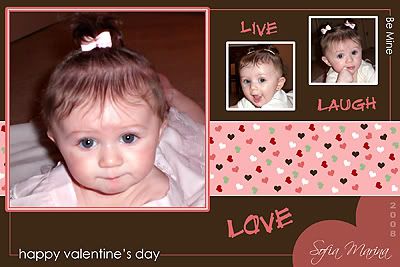 I cant wait for Easter cards.... Maybe she will be sitting down already!!! If you want to keep following her growth, you can check out her
mommy's blog here
.