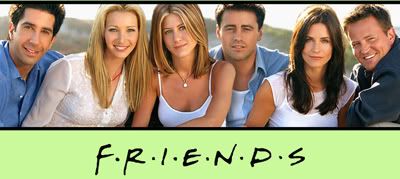 I have always been a big fan of the TV series "
Friends
". A few months ago, hubby and I were talking about how we needed some quality time just the two of us more frequenly, even if it was just in the house. We were thinking about watching a movie at least every other day, but it looked like too much as the truth is that it is really difficult to take 1:30 hours out of the girls and our business. So, after giving some thinking we decided to start watching my beloved series "
Friends
" since the very beginning, episode by episode. It is just 21-23 minutes, so it is totally doable. He wasnt a big fan, but soon he has become a freak too. Since the past 4 months or so, we have been watching at least one episode of it DIALY, sometimes even 2 in a row. We are now in Season 6, and I can only think in how much we will miss it when we finish Season 10. I saw mostly the whole series, but now it is like watching all for the first time as so many years have passed, and because I never got the oportunity to watch episode after eposide, so there are many that I have never ever seen.
Here are two videos that I found on
You Tube
and, even though I didnt want to watch the second one as it may have spoilers for me, I want to share them with you....
The Stuff you've never seen
Series Finale Tribute: