Today was my mom's birthday, which is mostly the main reason why my nephew and sister in law are in town. My brother is doing a Master in town, so he comes every Friday, but normally he comes by himself.
We were not sure what we were going to do for my mom's birthday, but one thing I knew for sure: I wanted her to spend her day with her kids and grandkids. That was just going to be enough for her. The initial plans was for them to come to our house, but we had to take Mia to the pediatrician in the mid-morning as she woke up with severe
Dysphonia. So, we decided to eat all together at my mom's house and just to hang around a bit.
Im sure she was really happy as all the wanted was for us to be together.... Here is my mommy, with her two babies (my brother and me), and with her four grandchildren: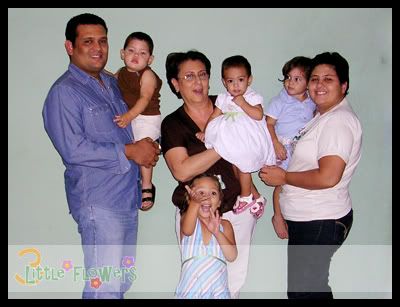 Of course, I got to spend some time with my gorgeous godson.... Isnt he the cutest?