Yesterday, Gaby bring home a precious gift that I plan to treasure forever. Each child did a "book", draw by each one of them, with their favorite stuff from this school year. How cool is that a four year old have the ability to realize who is her favorite teacher and who are her best friends. Especially when you know it's true, and she is not just choosing the little girl that was nice to her that morning, but the one that has been her closest and dearest friend the whole year. And her favorite teacher to me is just WOW. Hubby teaches computer to Gaby, and even though she loves her teacher to pieces (and I know that as a fact), when she was asked who is her favorite teacher she answered "Daddy". Of course daddy is her favorite teacher, but it is amazing that she actually realizes that.
Here are Gaby's Preschool Memories:
Her teachers were...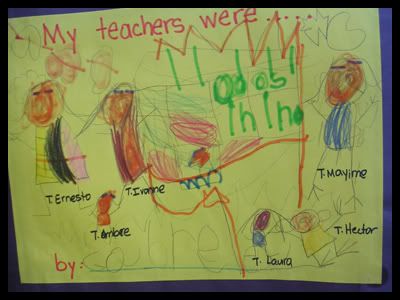 Her favorite teacher was... (how sweet is that? daddy is #1)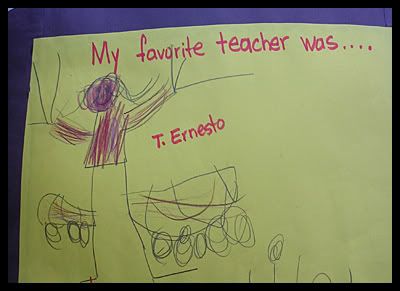 All her classmates...
Her best friends were...
Her favorite book... (
The very hungry Caterpillar
)