Wow!!! I cant believe that in one month my last baby is going to be a toddler. Of course, she will always be my baby, but it makes me sad that I wont be able to hold a baby of my own anymore...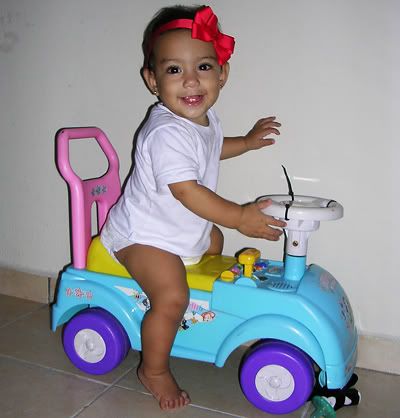 Anyway, I have been looking around for milestones Mimi should have by 11 months old to see how advance she is, and here is what she does:
- Walks while holding onto furniture, and even while holding into toys (like the push around car)
- Uses the "pincer grasp" to pick up tiny objects between his thumb and forefinger.
- Can sta
nd alone. She actually does this since she was 8 months old, but she still havent figured it out.
- She says "mama" and "papa." She also says "leche" (milk), "agua" (water), "pamper" (she just started saying it).
- Talks in conversational gibberish.
- Can climb the stairs (of course, we have been behind all the time) - Transfers a spoon to the mouth.
- Imitates speech rhythms, inflections, and facial expressions.
- She began to seek approval and avoiding disapproval.
- She refuses forceful teaching.
- She shows guilt at doing something wrong.
- Waves bye-bye when is leaving the nursery.
- Have two teeth (since forever).
- Claps out of happiness (since a while ago).
Cant wait for her checkup to see how much she weights and how tall she is!! My petite princess!!