… we were already settled in this country since a few months ago. We were loving it here, especially hubby that have never visited this country before. Lifestyle was VERY different from New Jersey, but it was a great experience.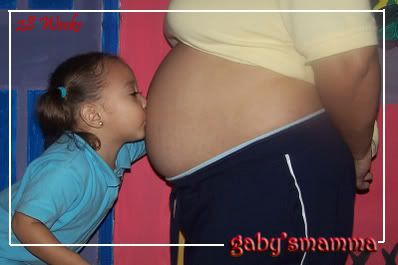 Monday, March 13, 2006
It was my last day of my job before my maternity leave started. I was working in
Punta Cana Beach Resort
as Administrative Assistant of the Real State director.
Thursday, March 16, 2006
Ultrasound day. 32 weeks and 5 days (according to my
LMP
). Everything was great with the baby, and she was 4 pounds. As in this country you can walk in for an ultrasound, I wanted to have one done before leaving to the states at the next day. I also went in for urine and blood work. As I was overweight since the birth of Gaby, I checked for high blood pressure, and
pre-eclampsia
my whole pregnancy.

Friday, March 17, 2006
I got in a plane at 1:00am and got to the JFK Airport by 5:00am. I spent my whole day and up to 9:00pm in the Airport. Pregnant and alone with a 2 year old. No food, or anything, like if I was some kind of criminal, and then I got in another plane to DR again.

Saturday, March 18,2006
As I didnt eat or sleep for over 30 hours, I went to the ER to check on my baby. I wasnt feeling it and we all started thinking the worst. Thank God she was Ok, but I was having contractions. I got an appointment for Monday with an
OB/GYN
.

Monday, March 20, 2006
I went to my appointment to meet this new doctor. As I wasnt suppose to give birth in this country, we never planned where I was going to give birth or with who. I was going to my monthly check ups with a doctor that was close to my house, who was a good doctor, but that I would never consider as the doctor that I want to give birth with. So, at 33 weeks, and 2 days of pregnancy, I was meeting the
OB/GYN
that I will be giving birth with. For the first time in my whole pregnancy, my blood pressure was high. I remember it was 130/90 (when it was 110/70 the whole pregnancy). She sent me for urine test and it was normal (no protein..... for those that doesnt know protein is present when a woman has pre-eclampsia). She wanted to see me again next Monday, and asked me to check for high blood pressure indicators.

Monday, March 27, 2006
I was feeling weird again, and I was alert. Blood pressure was a bit high again, protein was negative, and I was sent for another ultrasound. Here is where I knew for sure that something was not right. The baby was 4 pounds! Exactly the same weight that she was 11 days ago. As it was a different tech, everybody agreed that the ultrasounds are not exact and not to worry about it, but I just didnt bought it. I mean, I know ultrasounds are not exact, but I knew there was something more in this case. As the contractions kept coming, I was prescribed with meds to stop contractions. Next appointment for next Monday.
Monday, April 3, 2006
I was already 35 weeks and 2 days pregnant (according to
LMP
). The ultrasound was saying that I had less, but the
OB/GYN
(and I completely agreed) wanted to keep the original date. Blood pressure was a bit high again, but protein came back negative. Next appointment for next Monday.
Thursday, April 6, 2006
I went to Labor and Delivery because even though I was on meds to stop contractions, I was feeling a lot of contractions that morning. When I got there, I was contracting, but I also had high blood pressure. They didnt want to let me go, so I stayed in the Hospital from Thursday until Saturday. That day I was supposed to be 36 weeks pg (due to LMP), and that it when pregnant woman are suppose to stop drinking the meds to stop contractions. But the doctor told me not to stop drinking the medicine for the contractions until Wednesday that she wanted it to see me again.
Wednesday, April 12, 2006
Morning
I got to my check up and blood pressure was a little bit higher than in the previous check ups (even though it was still that high: 140/90). They ask me to lay down in a little bed that they have and they took my b/p again 1 hour later. It was still the same, so she sends me to an Internist right there in the same hospital so she could prescribed me something for my blood pressure. Before going to the other doctor, she told me that my baby "looked" small (that was with touching my belly and feeling the baby). She was as big as a 33 weeker since that ultrasound at almost 33 weeks, until the last one. When I got to the other doctor, my blood pressure was higher. It was already 140/100 (the second number which is the most dangerous one was going up). The doctor didnt like that at all and she prescribed me some meds. She also sent me for an
echocardiogram
and an
electrocardiogram (EKG)
, and to come back right away for the results.
Afternoon
I went for the echocardiogram and EKG. The EKG was fine, but the echocardiogram was showing something that was sometimes normal for pregnant women. The doctor told me that she wanted me to take the meds and to come back at the next day to take my blood pressure again. She also sent me to the lab for another urine and blood test (results were fine).
6:00pm
I went home to get some rest. We got the meds and I took it. Hubby, Gaby and my mom went to the supermarket to buy some stuff, and I stayed home sleeping. It was already 9pm and I suddenly started feeling weird. I started to feel some cramps all over my body (specially in the neck) and I feel myself itchy. I got scared and I though that probably my blood pressure went down because of the medicine. I called hubby to come to pick me up to take me to the Hospital to take my blood pressure. While I was waiting for him (and my mom) one of my aunts calls and I told her what Im feeling, and she tells me that those are symptoms of high blood pressure, not low. I told her that it was impossible because I had some medicine for ir so it couldnt be higher. When I got to the closest Hospital (not the one I was going to give birth) they told me that my blood pressure was 140/110. They told me that I had to options: 1) To be hospitalized and they were going to lower my blood pressure and then in the morning they were going to induce me OR 2) Sign a discharge paper and to go to my Hospital. I choose going to my Hospital, so I called my OB and she told me that she was going to call for them to be waiting for me.
11:00pm
When I got there, it looked it like everybody was waiting for me. As soon as they saw me coming in they ask me if I was the pregnant woman that has high bp that was coming and I said yes. I was surprised because there were a lot of people in there, and they just knew it was me. So, they put me in a bed, took my blood pressure and it was already 150/120. They didnt let me talk or anything. It looked it like the whole Hospital was on top of me, and everything was being done in a rush!!!! They started putting that thingy that takes your urine in a little bag, they put me an IV and started giving
magnesium sulfate
(something that was putting my body HOT). When they took the blood pressure again it was 140/110, they gave me sulfate again, and then the blood pressure was 140/100. In that moment looked it like everybody started to breath! Finally they got the second number at least in 100. They sent me to a room, and they told me that they were going to keep putting me
magnesium sulfate
every 2 hours until morning (those were the instructions from my OB) and she was going to come in the morning (around 8am) to talk to me about the possibility of having the baby that day.

April 13, 2006
They kept giving me the sulfate and the blood pressure was the same, but the second number wasnt going down from 100, so at 6:45am my OB walks in my room to tell me that its too dangerous to keep the baby inside (dangerous for both lives). So, a couple of minutes after that I was on my way to the operation room by myself... My mom was the one that spent the night with me (DH was taking care of Gaby and they were going to switch in the morning), but the hospital was not allowing my mom in the room, and hubby was on his way. Even though, he rushed himself to the hospital, he missed the birth of Camila Nicole aka Mia at 7:30am.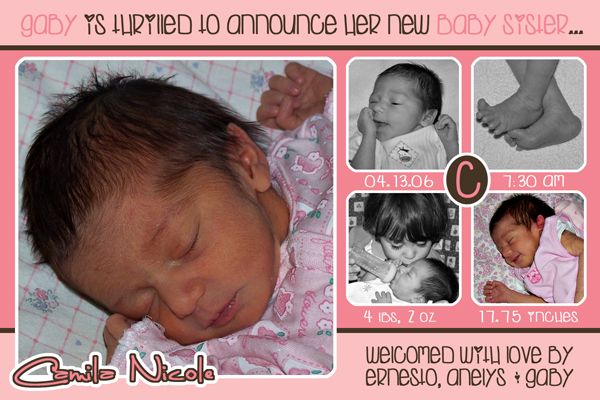 She weighed just 4 pounds and 2 ounce with 36 weeks and 5 days. Even though she was almost full-term, we came to the conclusion that she wasnt growing up in my belly due to the high blood pressure. She cried right away, and she was the smallest baby to my eyes! She hardly needed any help to breath, but she spent 5 long days in the NICU.
April 13, 2007
Camila turned a year old and it was a big thing!! We didnt celebrate big, it was a small party at my mom's house, but all the people that were there care about her a lot and are part of her day to day life. She wasnt walking yet, but she was cruising all over!! She was into everything (and with everything I mean EVERYTHING), but she was also the sweetest baby and everybody was in love with her).
April 13, 2008
Tomorrow Camila is turning 2. Even though her party was 2 weeks ago, it hasnt grown on me that she is already 2. I kept saying: "she is almost 2, but not yet". in a few minutes she will be already 2, and that only thing Im going to add here (if you made it this long) is that Im REALLY proud of being her mom, and my heart fills with pride when I say: "Yes, that's my daughter!"