We registered Mimi in a nursery that was close to our house, but in the day to day, we realized that we needed her to be close to my job, not close to the house. So, this morning she started a new nursery a block away from my job. We didnt want to change her because she was already used to the other place, but if you guys remember the nursery where I had her it is suppose to be for toddlers 1 year up that walks, and the principal accepted Mimi as an exception... So, they are really not that prepared for a non-walking baby.
In the new nursery, they accept babies after 1 month old, and they have everything that Mimi needs to be really happy and comfortable: a playpen for each baby, gyms, cushing walls and floors, vaporizer in the room, and the lady that is in charge of the kids is a nurse, and she also has a teacher's aide. Another plus is that the co-owner is a pediatrician and they will give her a check up every month. The other co-owner (that is the one that is actually there day to day basis), used to be a hair stylist before studying early education, and they give "grooming" services too. This may sound funny, but I think it is really nice that Mimi can get a haircut with somebody that she already trusts (which may be pretty soon).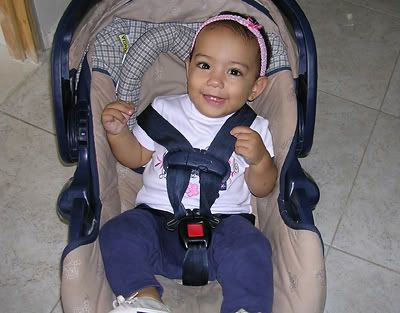 She was really happy when I left, and I had the best feeling that she was going to be great. As she is a block away from my job, I stop by around 11:00am and she was soo happy. Her teacher (the nurse) told me that she is the sweetest baby and that she havent cry not even once.
When I picked her up she was clean, fed and happy. Her diaper bag and lunch box were clean, and even the bottles were sterilized. The dialy report book is also very complete, Im really happy and I hope everything stays like that.