For some reason or the other my hubby kept postponing his trip to the barber shop. We could hardly believe it, but we realized that the last time that he cut his hair was for his job interview back in August!!! That means 8 long months without cutting his hair, mostly Mimi's whole life. It was really funny how he was the only man in a house of five, and he was the one with the longest hair.
I remember we planned to cut his hair for Gaby's birthday party in fall but it got late and we couldn't manage to fit the barber shop in the schedule…. Then, for Christmas, he wanted to do it to, but we never found the time to go… After that it has been one thing after the other, and there was always an excuse…
We needed to go to the mall where his barber shop is to buy some white and navy shirts for Mimi's school from a brand for kids that I love that is originally from this country (Karla Read is the brand, and Karla Kids is the line for kids). So, I was not in a rush to make a card or anything, and we decided that it was the best time...
Here is my hubby with all his hair (the first picture was from
Mia's party
and the second was from Mia's
birthday weekend
)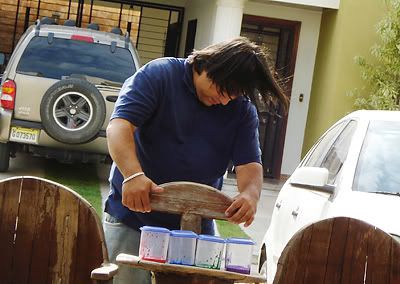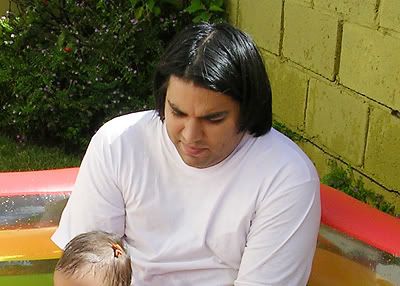 Now, here is a picture of the hair GONE (or at least as short as he can cut his hair without getting spiky hair):