Today was Mimi's 11 months old check up, and Mia's 2 years old check up.
As Mia is really sick from the cold, I didnt sent her to school, and instead she stood in my mom's house with the maid. She was happy but still very sick. Hubby and Gaby came in the school bus up to a
KFC
that I have close to my job, and after I picked up Mimi, I went to pick them up. Of course, we were all starving, so we had some
pop corn chicken
.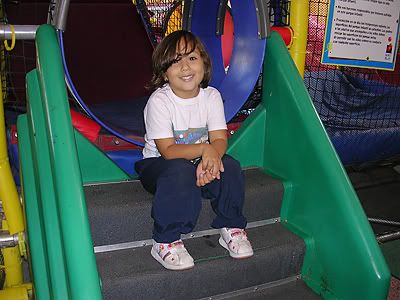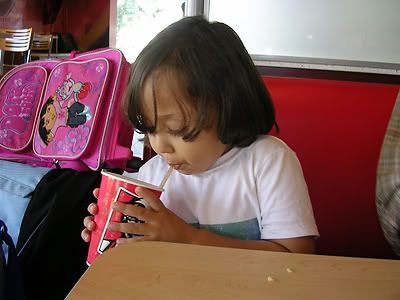 Then, we went to pick up Mia, and then: The Pediatrician! It happend what I knew it was going to happen. Mimi weights 18 pounds and 12 ounces, and 27.5 inches long which is mostly the same as her
8 months old check up
. By that moment, she was an average 8 months old baby, but now she is in 18th percentile for weight and 12th for height. The pediatrician told me not to worry because babies are suppose to weight 3 times what they weighted at birth, and she actually weights 4 times what she weighted at birth. I understand his point, but to me, Mimi is too small for her age. I will hate me if this has something to do with her being outside the house and not with me all day long...
Mia is 29 pounds and 4 ounces (80th percentile), and 33.5 inches long (37th percentile)... Her height is a bit low in percentile, but I know she is not going to be tall, so that is fine with her... She has lost and gained back a lot of weight in this past year, and I think rigth now she is just fine. Her cold it is really bad, and he actually prescribed her a
bronchodilator
, and an antitussive. She wont be going back to school tomorrow... I think she is not ready to go back.