After her long vacations it was time to go back to school. I love first days, because she does everything fast and happy. There is no whining
"I dont want to wake up"
, or
"I dont want to get change"
. She was actually ready first than hubby!!
It's incredible how much a kid can grow in 3 weeks. When I was getting her pants on, they WERE SHORT!! I mean, they were perfectly fine 3 weeks ago, and now they are too short for her. So, I had to let out the hem, and of course, now they are too long, but I didnt had time to raise the hem again.
Here is she when she was going out of the door (while hubby was in the car telling me: Im late and you are taking pictures????... LOL). ---- And yes, that is a long sleeve shirt under her school shirt because is still cold, especially at that time in the morning, plus her school is in a big hill and it's cooler there---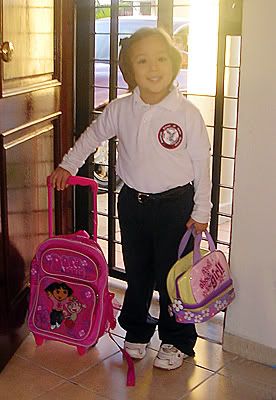 While I was getting Gaby ready I had to put Mimi in the swing. The original cover of the swing is under an "OxiClean treatment" so it has a temporary cover that doesnt allow us to put the belts... Also, I didnt turn it on because it was after her milk, and I dont like to "swing" her after eating.... So, here is what happens when a baby fall asleep in a swing with belts and turned off: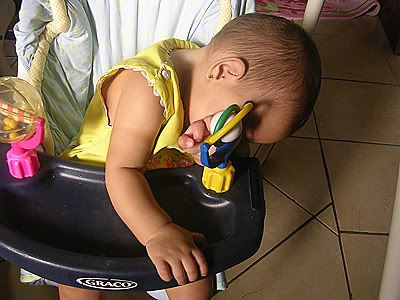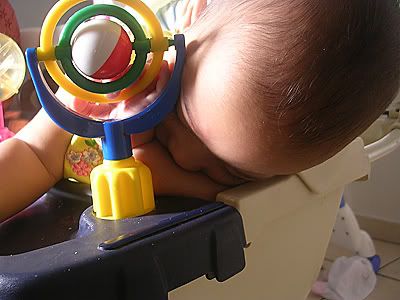 *********************
Cutest thing of the day:
One of Gaby's favorite movies is Lion King. She started watching it and a bit later she started calling me. When I go there, I noticed that the chapter where Simba's dad dies just started... She looked at me and says with this sad face: "Could you fast forward that part because I dont want to see Simba's daddy dying?" (My poor thing).