Gaby has a school trip tomorrow to the National Botanical Garden, and Im going with her. As Ernesto has to be there by 7:30am, we both will be leaving with him.
I asked my mom to let me borrow her maid for that morning, so she can stay in my house taking care of Mia and Mimi, but when my mom asked her where she wanted to take care of the girls: here or at my mom's house, she said my mom's house. I was surprised because who in the world would prefer to take care of two babies out of their normal habitat, where there is no enough toys, playpens, high chair, walker, etc. etc. etc. But, she said that she was going to be more comfortable at my mom's house because of the stairs.
I knew that taking the girls to my mom house in the morning will mean to wake them up by 5:30am at the latest because we live around 40 minutes away from my mom's house, and the school is close to our house. So, it was at least one hour and a half going and coming back. We decided that it was best that the girls slept at my mom's house.
My mom came with the maid around 8:30pm to pick up the girls. They were already bathe and in pj's, so it was just matter of putting them to sleep. Mia was going to sleep with my mom with a bedrail, and Mimi on the crib we have at my mom's house.
It was late, and it was school night, but we took advantage and played with Gaby some things that we cant play with the little ones around. It was fun, but it's REALLY weird being able to turn lights on, and actually talk without being scare of waking somebody up!! We miss them already!!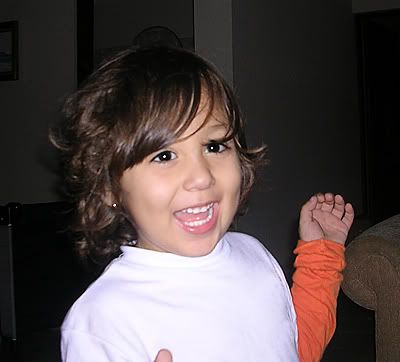 ******************************
Cutest thing of the day: Gaby bathing Mia by herself, and actually doing it good while I was just "watching".