We normally stay at the house and dont go around much, mostly because I work too much, ad because we cant get the girls to behave in their car seats (we have a
compact car
, and it is not an easy task to keep the girls away from each other with 3 seats right next to the other). But we needed to do a few stuff.....
Here is a video and pics of Mimi playing on one of the Playpens while we were getting ready.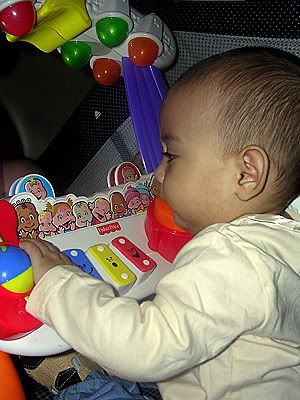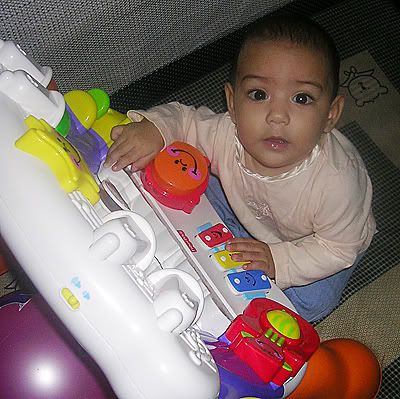 One of those stuff that we needed to do was to get Mimi's shots. She was a little behind, and didnt had her 6 months old shots (Penta + Polio), She behave like an adult (well, like one strong adults, because I know a few that cries with a shot more than babies), and she cried a bit and calmed down easily. I gave her tylenol in advance, and we are praying for the fever to stay low. I always give tylenol every four hours for 24 hours during the day and a Tempra suppository during the nigth).
We had a lot of fun while we were out. We also got together for a bit with my bro, sister in law and newphew Ariel Enrique that were in town buying some toys for los Reyes Magos. Then, we spent two hours at the toy store exchaging one gift (I just couldnt decide).
We cant wait for Los Reyes!