Today is my 27th birthday!!! Im not a birthday person when it comes to my own birthday, but I do love getting cards and birthday wishes. Thank you for all the cyber gifts!! You guys are an important part of my life!
Gaby "made" me a birthday cake out of bread, cookies and melted ice cream, and it was the sweetest thing:
I asked my hubby for two birthday gifts: A nap and a family picture. I took a 3 and half hours nap and it was GREAT!!! When I woke up he got the 3 girls sleeping, so we set up a movie to watch. We couldnt watch the movie, tho, cause my mom called that she was on her way to pick us up for dinner, so we had to get everything ready to go out.
We had a great time, and the girls got lots of fun. There were a kids area in the Restaurant and we sat right next to it, so the girls were able to play and we were able to actually sit on the table to watch them. Even Mimi was looking at them happily.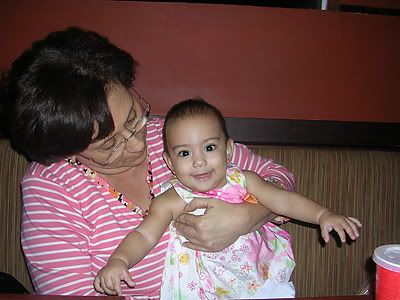 My mom also got me a new scale (Gaby broke the one we got 2 weeks ago), so we wont have to buy a new one after all. It's the perfect gift. I also ordered a pedometer two weeks ago as my own birthday present and I have to pick it up tomorrow. When we got home it was time for my family picture and even though Mia started crying like always, and Gaby started to complain, I did got a picture where AT LEAST, they are not crying!! LOL ... It turned out perfect for what we normally get!!
Thank you girls for all the birthday wishes, and I will be posting as comments three emails that I got from some family, just to keep them as a memory. And thank you to those who called me and that sent me messages by the messenger!