Today was Gaby's evaluation from her first semester. Her teacher have been telling us that she is behaving extra great since the classes started again a couple of weeks ago, and that she is very proud of her. Gaby was so excited showing us all her hard work, and al the things that she have done since her last monthly evalation. This is a looooooong post but east to read.... I appreciate to those that are going to take the time to read it in full.
Here are the list of objetives that says that Gaby already ACCOMPLISHED. Have in mind that all this is evaulated in English, while her first language is Spanish.
SOCIAL ATTITUDES
- Waits patiently for her turn in class
- Takes part of informal conversations
- Is getting along with classmates
WORK HABITS
- Accepts responsability for cleaning and picking up
- Participates in class
- Works independently
- Shows appropiate attention spam
- Takes care of personal and school property
- Listen when other talks
MOTOR SKILLS
- Follow lines when cutting
- Respect limits when coloring
- Is able to draw a line from left to right
- Is able to draw a line from top to bottom
- Is able to draw a slant line
- Traces over lines, letters, numbers
- Creates detailed pictures
- Handles the pencil correctly
- Handles crayons and brushes correctly
- Has adequate coordination
LANGUAGE ARTS
- Speaks clearly
- Retains and applies new vacabulary
- Undestands and follows directions
- Enjoys literature
- Retells stories in sequence
- Recognize and names the following colors: Red, Pink, Purple, Brown, Black, White
- Recognizes and names shapes
- Able to listen a short story
- Draws conclusion through observation of details
MATH
- Identifies numbers 1 to 5
- Writes numbers 1 to 5
- Counts up to 10 (and it says that she actually counts up to 12)
- Recognizes patterns
- Recognizes position of objects
- Recognizes similarities
- Recognizes differences
Here are the list of objectives that it says that are IN PROCESS:
SOCIAL ATTITUDES
- Undestands and follows safety rules
- Shows self-control
- Shares and take turns
- Adapts to new situations
WORK HABITS
- Works without disturbing others
- Works neatly
- Completes work in reasonable time
MOTOR SKILLS
- Writes first name (She does it sometimes but sometimes she needs reminders)
LANGUAGE ARTS
- Uses complete senteces in English
MATH
- None
Here are the list of objectives that it says that MOST BE ACCOMPLISHED. This is the things that she is suppose to know by now, but she still needs to work on:
SOCIAL ATTITUDES
- None
WORK HABITS
- None
MOTOR SKILLS
- None
LANGUAGE ARTS
- Identifies letters (it says that she only identifies F and S)
- Recognizes and names colors: Green, Blue, Orange and Yellow
- Recognizes lower case letters
MATH
- None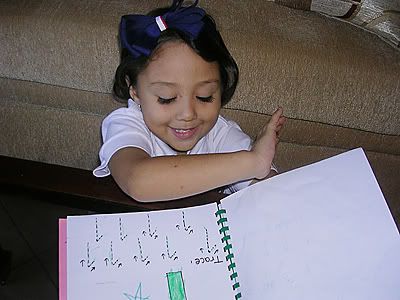 Im not 100% satisfied with some things that she havent accomplished. I will be having a meeting with her teacher next week (God willing), to discuss those things, because she does recognizes some lower case letters, and she identifies way more letters than F and S. Im surprised that her teacher didnt even put letter G, because I have to hear her saying ten thousand times a day: Look!! My letter G!! Along with: Daddy's letter E, and lots of others that she relationates with the first name of her classmates (like: Look: There is Daniella's letter D).
With the colors, I know she gets confused a lot with green and blue, but this is just in English. Another thing that says that is in process is counting. She counts up to 50 in English but she misses some numbers, so she really counts up to 12 in their correct order.
On the recomendations from the teacher, she recommended to work with her at home with her fine motor skills, especially modeling with clay. I must confess we hardly let her play with clay because of Mia. Mia wants to eat it, and this just starts a battle. We will start working that out. We will be working more with the letters too.
GABY, WE ARE PROUD OF YOU!! KEEP ON WITH THE GOOD WORK!!!