Last night was the coolest night that I have memory of. Our temperature is normally 30C (86F), but it has been as high as 35C (95F), and as low as 23C (73F). When it has been 23c (73F) is normally in mid-ed January which is the coolest time of the whole year.
Last night it was so cold that I couldnt believe it... Believe it or not, here is what my temperature metter was telling me: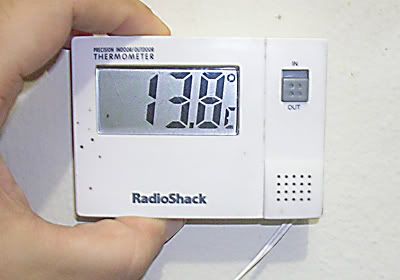 That is 56.8 F!!!!
Some people may find that is not that cold, but imagine to be in your house without heater and wtih regular cloths with the temperature like that. There is no such things as heaters in this country because there is no point to have one, if they are not needed.
Tonigh is not as cold as last night and Im wearing long sleeve pants, socks, a shirt and a COAT!! Yes!! A COAT!! Right now it says that is 18.1 C (64.5 F). Even my hubby, who was the kind of guy in Jersey that goes out in shorts to buy something at the corner store while is snowing, even him is cold!!! Picture that!
Here is a link from yesterday's newspaper about the cold.... It's in Spanish though (
Listin Diaro - "Sugieren a la poblacion abrigarse por incidencia de frente frío
)... The girls on that picture doesnt even look that they are in this country!! IMAGINE IT!! With sweaters and hats in the middle of the day and under the sun!!!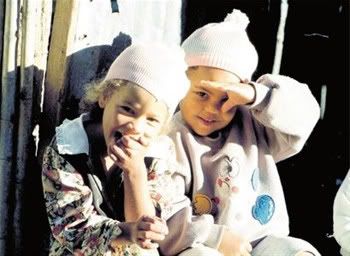 ****************************
Cutest thing of the day: We have one of our dialy black outs, but this time was at time, when we hadly have one at night. It even took longer than normal, so we were without electricticy for around 40 minutes. Mia and I were sitting down the stairs (Mimi and Gaby were asleep already), and Mimi panicked when she saw her shadow!! I blog about this last week, but this time was really hillarious! Here are some pictures of her actually explaining us about that thing on the wall. (Sorry the picture quality, but that was the best I could get without flash and in a dark house with just a little candle on).