When Gaby came home from school yesterday her voice was
hoarse
(only God knows how long it took me to find that term in English: so, ella llegó ronca). I know this is linked to her
enlarged adenoids
and
sinusitis
. Aparentely, she was screaming too much during playground time at school. She was all better since her last treatment a few months ago, but she started snoring and
wheezing
. I have always wondered if she also has
apnea
episodes, but how do I find out?
Hubby also stayed home today, because he has an horrible cold and can hardly move. My migraine is also terrible, so we are all miserable today. I called my mom and asked for backup, and she sent me her maid for the day. It was nice to be able to work without worrying about cooking and diaper washing. One of the chores that I hate the most is to hang out the cloth, so I washed like 4 loads of cloth to have her help me to hang them out!! I was in heaven!!
Here is a picture of Gaby playing CandyLand with the maid (there's a little tiny bit of the maid's hand in the right).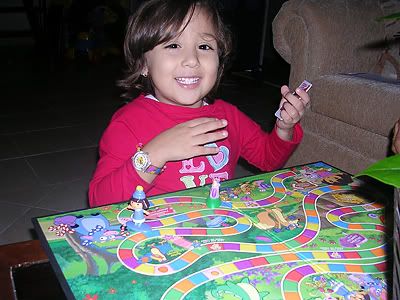 ************************************
Funniest thing of the day: Gaby found a bucket with some cloths that were dry already, and she started trying everything on. She actually found the way to put on some Mia's cloth, and even pant from Mimi. Battery was off so I couldnt take pictures, but it was too funny!!