A lot of people doesnt understand why we moved to this country. USA people, dominican people, people in general, there's always have to be somebody asking:
"Why did you guys left the states? Why did you guys moved to Dominican Republic?".
The truth is that there are several answers to this question.
After I gave birth to Gaby, my mom stayed for over a month in my house and she helped us a lot. After she left, everything was a different story. Being a first time mom without my family and friends was really difficult. I have nobody to call. The only people that I had close by were hubby's parents and sisters, and they were always working a lot and long hours. So, when hubby was working, and I had no idea what to do with Gaby, I had nobody to call, and nobody to ask, and nobody to vent with. So, I was always getting large phone bills with international calls to my mother.
So, you will hear: "
we wanted a change
", "
we wanted to have our own business
", "
we wanted to be able to have inexpensive maids
", "
sun and beaches all year long
", "
no more snow
", etc etc etc. But, the real reason is because we wanted the girls to spend their first years surrounded by lots and lots of family. Mostly all my side of the family lives in this country, but only hubby's inmediate family lives in the states. Today, we had one of those days that makes our stay in this country, a happy one.
My dad and his wife came to spend some time with us. My stepmom even played Candy Land with Gaby, and my dad's smile while holding and playing with the girls was priceless (This picture was taken when my dad was leaving, and Gaby was upset, so this was the best shot!! lol)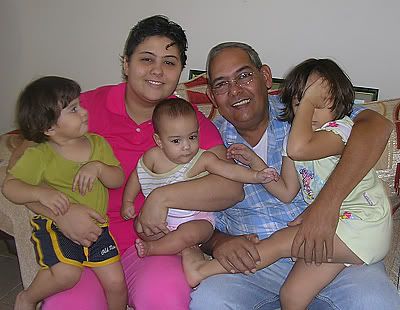 Then, one of Mimi's godmother's came with her boyfriend to play a bit with the girls. The girls had a blast, and Gaby was even dancing merengue and reggaeton with him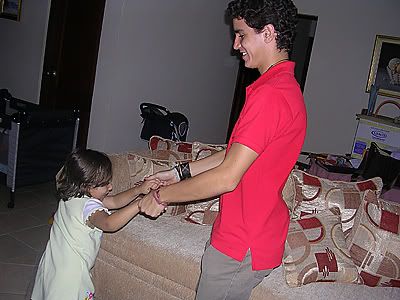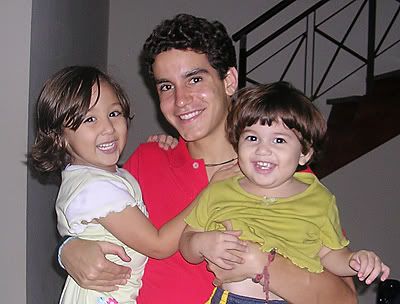 Then, my mom came and invite us for a pizza.... We didnt took pictures, but I have the blog to write that she was here, right??