Recommended Age: 9 to 36 months
My youngest got this toy as a Christmas present from one of her godmothers. It has been a huge hit in our house. As her godmother got it in this country, it talks and sings in Spanish. I browse around for it and I couldn't find an English version, so maybe it's just made in Spanish (curious how everywhere the name is in English, not in Spansih).
For non-walking babies it has a detachable panel that can be used while the baby is in tummy time or sitting down. It can be placed in the floor, or even in the crib or playpen WITH adult supervision (we dont want the baby to felt on top of it and hurt herself, right?). The dashboard has lots of lights, a buil-in-cell phone, steering wheel, turn signals and horn
Mimi LOVES to play with it. She gets so excited everytime she hears the music or the "beep-beep". As far as learning value, I cant judge it for a baby so young as she is, but she sure has lots of fun.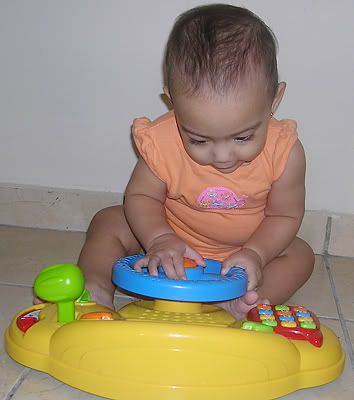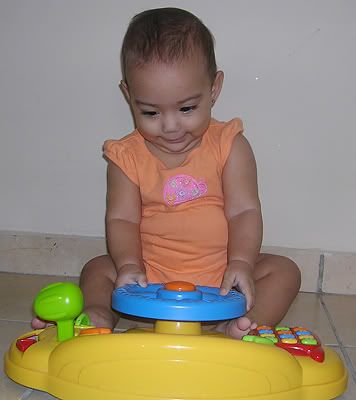 Here is a mini-video for you guys to see it in action with an almost 8 months old baby.
When the baby gets a little bit older, the panel can be attached to the body of the toy. It can be converted to a Rocker (for toddlers who can walk without help), or converted as a car (for more independent toddlers). For babies over 15 months old, I think it has lots of learning values. It teaches numbers, ABC's, shapes, colors, up-down, right-left, and it has several catchy songs. If you are looking for a toy to introduce your child to Spanish, I think this is a great option. It can be bought at the
Spanish Toys store
.
Here is a video of Mia playing with it the other night. As it was at night, it's kinda dark, but you guys get the point. Even Gaby enjoys playing with it, because the songs are really cute, and I can hear her singing them while playing with another toy.
(the video keeps failing to load.... Maybe it's too long... I will try to make a shorter one in a bit to post it).